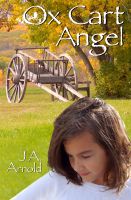 I was recently sent a copy of this book through the
Library Thing
giveaway program.
Ox Cart Angel
is a story of a young girl in the 1800's set in the Dakota Territory. Although at first this seems a very simple story it is full of examples of struggles and triumphs. The book itself is well written and would be good for Adults or older children alike.
The book deals with topics like racism, loss of loved ones, and over coming adversity in a way that is very captivating. This book reminds us that life does not always end up being what we imagine or hope for, however we can endure and even enjoy the journey.
A well told story that sets the stage for future adventures.
This book was a free gift from the author, the content of my review was in no way influenced. The thoughts and feelings expressed are my own.