Boo and I have been reviewing an excellent online program for fourth grade math. The company as you can tell from the banner above is
A+ TutorSoft, Inc
. The product we have been working with is the online version of
A+ Interactive Math
. It is available for grades 1 - 6, pre Algebra and Algebra.
This is a screen shot from the online edition.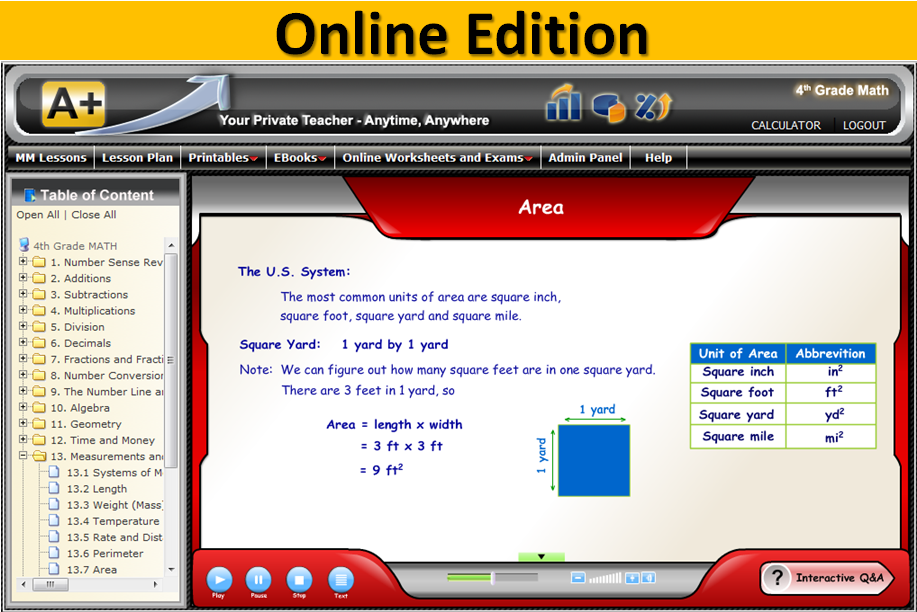 To set the stage for this review I have to tell you we have been homeschooling now for two years and have changed math programs about that many times (or more). So when I told Boo about the chance to review a program she groaned - yes literally groaned and rolled her eyes at me. If you have a girl you will know exactly what I mean.
I never made Boo do the placement test (partly because of the eye roll) but also because I knew that Grade 4 would work fine for us. However if you are unsure then I one is available.
This is how we have used it.
Boo used this program every day (and will continue to do so). We average about 45-60 minutes per day. Boo watches a lesson, completes the practice exercises, then a worksheet. The worksheets can be printed out or completed online, however since Boo has her own laptop computer time is not an issue so we just did all the work online. Sometimes she would do more than one lesson it was completely her choice. Some days if she found the lesson a particularly easy one she would do two. When a whole section is completed there is an end of unit test. Boo did have one or two problems with this. Once or twice she had entered an answer but after finalizing the test it said that she had failed to submit an answer. This was either a glitch in the program or an error on her part. She doesn't like getting questions wrong especially if it was just an input error so she came up with her own solution. She started to write her answers in a notebook and then double check her answers before submitting her test. That way she could prove to me herself that she had answered all the questions. The tests and worksheets can be saved and completed later if the child is interrupted but once they are finalized they cannot be changed.
As a parent I also could log in and check her progress, see test scores, and look at any pending worksheets. You can even watch the videos that are assigned for each lesson.
Did we like it?
I think this conversation will answer this question quite well.
Boo "Do we get to use this program after the review period ends?"
Mom "Yes, you can use it for the year."
Boo "Awesome I love it!"
When we first started she found it very easy. However as time has gone on she has found it a little more challenging which is excellent.
I love that she can work at her own pace and doesn't have to wait for me to grade her work. She can also re-watch a video if a concept is a little more challenging.
The Topics covered in the 4th Grade course are:
1. Number Sense Review
2. Additions
3. Subtractions
4. Multiplications
5. Divisions
6. Decimals
7. Fractions and Fractions Operations
8. Number Conversions and Mixed Fractions Operations
9. The Number Line and Number Comparisons
10. Algebra
11. Geometry
12. Time and Money
13. Measurements and Conversions
14. Probability
15. Displaying Data Using Graphs
16. Word Problems and Problem Solving
There is also a 32 week lesson plan that you can print out with boxes to check off if that helps keep you on-track. Since we use a year round schedule I don't worry that we will finish the course in plenty of time.
The only thing drawback for me is that there seems to be a lot of multiple choice questions and I would prefer more variety.
The online subscription that we are using costs $19.95 a month, $49.99 per quarter, or $124.95 a year.

The program is also available is offered in a CD Version (Check out some of the other reviews that feature this product so you can understand the differences).
You can try this product free for one month
here.

If you want to purchase this program the vendor is offering 50% off till the end of March just use the code spoffer50 at check out.
Disclaimer: I received a free copy of this product through the Schoolhouse Review Crew in exchange for my honest review. I was not required to write a positive review nor was I compensated in any other way. All opinions I have expressed are my own or those of my family. I am disclosing this in accordance with the FTC Regulations.