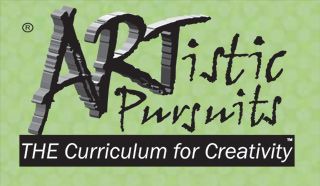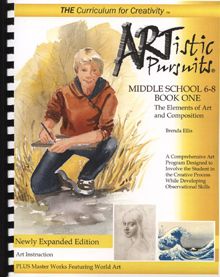 Jam was very excited to be the one to review this book. He LOVES to draw and I encourage it. So when this came up for review I jumped at the chance and Jam jumped too (literally).
When the book arrived I quickly took it so I could become familiar with it before handing it over. I was very impressed with the layout - It is so easier when a book opens flat on the table (the binding allows perfectly for this.)
The description (on the front cover) says 'A comprehensive Art Program Designed to Involve the Student in the Creative Process While Developing Observational Skills'.
I can honestly say we have both enjoyed this book. I love that it features many famous and not so famous works of art in the lessons.
There are 16 Units in the book each one broken down into 4 lessons.
The first lesson focuses on building a visual vocabulary, the second focuses on art appreciation, third on techniques and fourth on application. I love how the book teaches the 'why' and then 'how' it gives a more well rounded approach.
We followed the suggested scheduling for our lessons: Two classes per week for about an hour. Following this schedule the book lasts 32 weeks or a full school year.
At the beginning of the book is a table of contents and then a list of the art supplies needed separated into semester. This was an amazing help. I had all the supplies on hand for the first semester (I told you he loved to draw.) However if you don't you can purchase via ARTistic Pursuits
here
.
Jam wouldn't let me post his first drawing from Unit one lesson one but lesson two was fun. This lesson used the painting 'Portrait of the Elephant Dal, Badal, Chasing his Attendant' Artist Unknown. It was an excellent lesson about positioning and space.
Unit two was about how different lines are used to create an image and make it more interesting. The art appreciation section covered a picture by Claude Monet that I was unfamiliar with called 'Tree Trunks at La Mare au Clerc', 1857 it was an amazing example of a pencil drawing.
This was Jam's picture using new techniques.
Since it was so cold and snowy here Jam sat in our sun-room looking out of the window. I think he did a good job.
As he spent a lot of time sat at the window. I had to capture a few shots.
I would highly recommend this series. Although at first glance it may seem expensive it is basically an open and go book. It did not require a lot of preparation from me (apart from buying the supplies.) This will be different with the younger age groups (check out the other reviews to find out). The book is also 'non-consumable' so this really helps the cost as Boo and Little J will be able to use it too. (I love that).

We will definitely keep using it for the rest of the year. It is nice to have art instruction and appreciation together. I also love how this book talks about different painting methods and culture. This gives a very rounded lesson as we learn geography and history too.

The biggest plus is that Jam loves it.
I wish we had found this sooner
ARTistic Pursuits
has books ranging from
preschool
all the way to
High School
see a complete list click
here
. The books are all $47.95 and cover a wide range of art subjects relevant to each age group.
Well that's our opinion of the book we are using. Check out more reviews
here
.
Disclaimer: I received a free copy of this product through the Schoolhouse Review Crew in exchange for my honest review. I was not required to write a positive review nor was I compensated in any other way. All opinions I have expressed are my own or those of my family. I am disclosing this in accordance with the FTC Regulations.