Little J and I have been using
TouchMath
over the last month or so. We have been working through the
Kindergarten program
.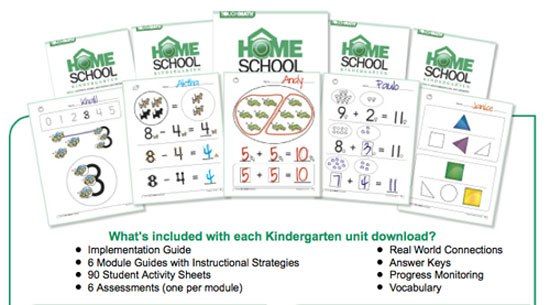 The
TouchMath
program is broken down into four units. The program is also designed to meet the Common Core Standards (if that is something that is important to you).
The
Kindergarten download
includes an Implementation guide, 6 Module Guides with Instructional Strategies, 90 Student Activities Sheets, 6 Assessments (one per module), Real World Connections, Answer Keys, Progress Monitoring, Vocabulary.
It is available in four individual downloads each one being $59.95 or $199.95 for all four.
We have been working through Unit A 4 or 5 days a week. Little J really enjoyed working with this program. I feel that he has learned so much already and we have so much of the program left to work through.
The topics covered in the Units are as follows;
Little J has really enjoyed having his own 'math book'. I printed off the unit and the lesson plans.He has been very motivated, getting his work done everyday. Since Little J he is four we have been working for about 10 minutes a day. Sometimes he worked longer especially when he chose to work on the
TouchMath Kindergarten Software
We mixed up the activities blending worksheets and computer work.Every day we used the manipulatives in one way or another. Little J loved all of them. I will talk more about them later.
I printed off the worksheets for Unit A. The teacher guides were excellent, they even included little pictures of the worksheet that the child was supposed to do next to the instructions. There really is no way to get lost or mixed up teaching this curriculum.
We were sent the following items along with the 4 unit download. Little J was SO excited when the box arrived.
TouchMath Tutor Kindergarten Software $99.00
TouchShapes $30.00
Math Fans $239.00
3D-Numerals $79.00
TouchPoint Posters $43.00
Texture Cards $99.00
Number Concept Posters $53.00
Little J used these everyday.
Little J loved the
TouchMath Tutor Kindergarten Software
(retails $99.00 for a single license) and really liked playing the 'bear game' as he called it. The software covers - Touching/Counting Patterns, Number Concepts 1–20, Addition with Sums to 10, Backward Counting from 10 and Below, and Subtraction from 10 and Below. The bears talked Little J through the different screens. I loved the fact that the screen counts for Little J as he is working through the game. For example the screen you can see on the picture below asked Little J to add '17' of the little bowls to the dark blue area underneath. As he clicked and moved them it would count up saying each number at a time. This is excellent and helped him practice the order of numbers while counting. However it doesn't tell you when you have reached 17 it will just keep going until you run out. Little J had to link the word '17' with the numeral '17' and use listening skills to know when to stop and submit his answer.
We used the
TouchShapes
a lot. Little J loved them. We used them to talk about shapes and also to practice counting.
We spent along time working with the
3-D Numerals
. We used them in lots of different ways; we practiced counting using the touch points, we practiced lining the numbers in order forwards and backwards.
Little J loved to put them in order.
We have been working quite slowly through this program. I have been very careful to listen to Little J's cues so as to not stress him. Little J has Amblyopia so the manipulitives have been excellent for us. Even when we are not working on math he will get the manipulatives out and practice counting.
We used the
Math Fans
to help Little J understand one to one correspondence, counting and number order. His favorite activity with them involved putting a candy on each fan part. This really helped him understand that the number 10 represented 10 things. There are so many uses for these fans we have really just touched the surface. I can see us using these for a long time.
They come in a 100 block, 10 blocks and 1-10 fans. So far we have only used the 1-10 fans but as I said as Little J's math skills improve we will add in the others.
The
TouchPoint Posters
are excellent. They are sized 8 1/2 x 11. I had these in a folder in page protectors so that Little J could look at them whenever he wanted. We don't have an official school room, however if we did these would definitely be on the wall.
The
Number Concept Posters
were too big to put in a folder so I only got these out when we were working on them. These really helped Little J understand what the Touchpoints meant. He loved to count the balloons and then the TouchPoints.
The
Texture Cards
remind me of those cute books with the little spaces that you stroke the kittens nose or fur. Little J loved these he gets them out just to look at, again not realizing it reinforces the other math concepts we are working on. There are five different sets 'Shapes, Fruit, Forest Animals, Sea Life and TouchPoints'.
Little J loves his program. His number recognition and counting skills have improved dramatically since we have been using it. I am very pleased with his progress so far. We will definitely continue to use it.
If you are interested in checking out this program go
here
to check out some excellent sample pages.
TouchMath is primarily available for;
PreK
,
Kindergarten
First Grade
Second Grade
However there is information for upper grades
here
.
Click
here
to read more reviews. Or click on the SchoolHouse Review Crew button below.
Disclaimer: I received a free copy of this product through the Schoolhouse Review Crew in exchange for my honest review. I was not required to write a positive review nor was I compensated in any other way. All opinions I have expressed are my own or those of my family. I am disclosing this in accordance with the FTC Regulations.

©2011-2013 Chickensbunniesandhomeschool. All rights reserved. All text, photographs, artwork, and other content may not be reproduced or transmitted in any form without the written consent of the author Chickensbunniesandhomeschool.blogspot.com