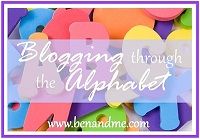 E is for Elephant Paintings
Our zoo has this really fun fundraiser. The Elephants paint pictures - while you watch. It is very fun.
Of course we couldn't resist.
The zookeeper gives the elephants a couple of treats and then he hands her a paintbrush (already coated with paint.) The elephant swipes the canvas with the brush. If more than one color is used then this is repeated a couple of times.
Then you end up with something like this...
We have ours in the dining room. It always attracts attention.
There are two kinds of elephants Asian and African. Our zoo has African elephants. The way you can tell the difference between them is by looking at their ears. The African elephant has bigger ears. Their ears also look a little like the continent of Africa. Asian elephants have very small ears.
Check out what other people are blogging about for the letter E over at
Ben and Me
.
©2011-2013 Chickensbunniesandhomeschool. All rights reserved. All text, photographs, artwork, and other content may not be reproduced or transmitted in any form without the written consent of the author Chickensbunniesandhomeschool.blogspot.com