This is the first time that I have written a random 5 post. I have decided to think of 5 random things is very hard...
1. I am a member of
The Church of Jesus Christ of Latter-day Saints
and have been all my life. This weekend is our General Conference. I love this weekend it is a time for me to step back and rejuvenate.
2. I am an expat (from England) I have lived in the US for 14 years and I LOVE IT. We are on countdown to become citizens.
3. I have 3 living children Jam - 12, Boo - 10, and Little J - 4. I also have two angels in heaven Heather, and Sam.
4. I am TOTALLY addicted to an English show called
Foyle's War
I love the fact that each episode is movie length. I like that it is historical based around World War II in Britain.
5. This year I have been blessed to be a member of the
Schoolhouse Review Crew
. To say I am LOVING it is an understatement. I have enjoyed using new products and using them with my children.
Check out some more Random 5
here
.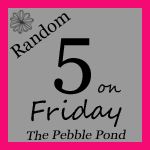 ©2011-2013 Chickensbunniesandhomeschool. All rights reserved. All text, photographs, artwork, and other content may not be reproduced or transmitted in any form without the written consent of the author Chickensbunniesandhomeschool.blogspot.com