1. We have a crazy dog. We love him but he won't fetch a ball. In fact he doesn't really play at all. However he does like his rubber duck. He also spends a lot of time sat perched on the top of the sofa like a cat staring out of the window.
2. My husband and I met when I was 2 our parents were friends. He was 4 and threw-up on my Mom's sofa.
3. After moving away we met again when I was 15 I noticed the T shirt he was wearing (It was awesome). I told my friend I would get the T shirt in two weeks (My husband came with it lol) We have been inseparable ever since. The T shirt is now framed on our living room wall. It is an excellent conversation starter.
4. We love the beach. If we could move anywhere it would be near the beach...or the mountains...in the middle of no-where. OK so I love solitude. I am definitely not a city person.
Little J spent our week at the beach last summer killing waves.
5. We LOVE Friday nights at our house. Tonight we used our 25 points from Papa John's to order (free) pizza add a salad and a good movie - perfect.
Check out more random five's over at
The Pebble Pond
.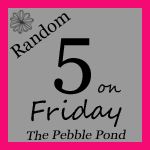 ©2011-2013 Chickensbunniesandhomeschool. All rights reserved. All text, photographs, artwork, and other content may not be reproduced or transmitted in any form without the written consent of the author Chickensbunniesandhomeschool.blogspot.com