I am a little behind on my G post...
I am not a gardener. It is probably to do with the fact I have terrible outside allergies, and pet allergies, and dust allergies...OK you get the picture I have A LOT of allergies. Luckily so far our children seem to for the most part take after my husband. He loves gardening (when he has time) which is the main reason we have ever had a garden.
This year however we are moving. Which is the reason we do not have a garden planted ready for summer. My mother loves to garden. Being an English women living in the US in a state with weather very unlike England her dream of having an English garden is very difficult for her. However she does an amazing job of landscaping and pruning and transplanting that leaves me envious. (I truly would LOVE to be able to spend hours outdoors in the spring and fall without being drugged up).
My kids love to be outside and be close to nature all year long and so when Grandma mentioned she was going to spend a day gardening the older kids persuaded me the Grandma NEEDED their help.
There are so many benefits from this activity I didn't hesitate to let them spend the afternoon digging and pulling weeds with Grandma. Although they didn't plant any physical seeds the hours of conversations and work that afternoon planted seeds of love and commitment between the generations that were priceless. My children (and Mom) have talked a lot about the conversations shared that day. Working together is such a blessing that sometimes we just need a reminder of.
Go
here
to see what others said about the letter 'G'.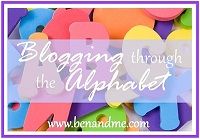 ©2011-2013 Chickensbunniesandhomeschool. All rights reserved. All text, photographs, artwork, and other content may not be reproduced or transmitted in any form without the written consent of the author Chickensbunniesandhomeschool.blogspot.com