Blogging through the Alphabet - I is for Ice-cream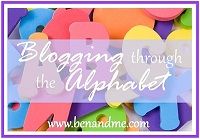 I am behind...yes it's been one of those weeks.
In our little town we have a little ice-cream shop that opens for the summer only. All year my kids say is it open yet?
To tell the truth I hate soft serve ice-cream, give me Ben and Jerry's any day. However apparently it is not summer until my kids have ice-cream at the little store in town.
This is where Grandma comes to the rescue. Yesterday we took out lunch to the park and while we were there Grandma said to the kids she would buy them a Creamy Freeze on the way home. Little J was SO excited (so were the older kids but they control themselves a little more).
Summer has begun
Check out more alphabet posts
here
©2011-2013 Chickensbunniesandhomeschool. All rights reserved. All text, photographs, artwork, and other content may not be reproduced or transmitted in any form without the written consent of the author Chickensbunniesandhomeschool.blogspot.com