I am enjoying these Random 5 posts. I hope you are too.
We are having crazy weather here today which starts of my Random 5 perfectly.
1. My sister's kids were off school Monday and since the weather was going to hit 86 degrees we all went to the Zoo (our FAVORITE field trip destination.)
4. My husband LOVES to cook when he is not at work. The last time he made breakfast he said he was going to make scrambled eggs. This is what I came out of the shower to find... french toast, scrambled eggs with peppers onions and cheese, bacon and homemade hash browns. Yes I agree he is awesome.
5. Boo was struggling a little this week remembering all of the new Math terms she is learning. To be honest sometimes I am too. So we decided to make a Math fact / Terminology book. This will basically be her dictionary for math. When she comes across or learns a new terminology then she can add it to the book. I think I saw this idea on Pinterest one day but I can't remember where or when.
I look forward to reading some of the other Random 5 Posts over at
The Pebble Pond.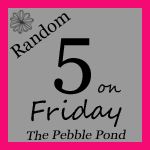 ©2011-2013 Chickensbunniesandhomeschool. All rights reserved. All text, photographs, artwork, and other content may not be reproduced or transmitted in any form without the written consent of the author Chickensbunniesandhomeschool.blogspot.com