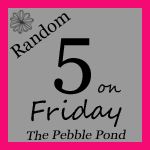 RANDOM FIVE
1. I am running my first giveaway check it out
here
.
2. I am SO sick of rain, thunder storms and tornado watches.
3. My niece is coming to stay next week. Her mom and sisters are off to girls camp. Little J said "she is staying for nearly a whole week. Isn't it AWESOME"
(to my English relatives - Yes he is a cowboy boot wearing, 'awesome' saying, Red White and Blue American boy)
Don't you LOVE it when cousins are BEST friends.
4.
I am gearing myself up to cut Mojo's hair today - since it is raining AGAIN and we can't go to the water park - I am grumpy about the rain today.
5. Mojo's favorite toy is a duck.
Check out what others are saying today
here.
©2011-2013 Chickensbunniesandhomeschool. All rights reserved. All text, photographs, artwork, and other content may not be reproduced or transmitted in any form without the written consent of the author Chickensbunniesandhomeschool.blogspot.com