WOW it has been a very busy week.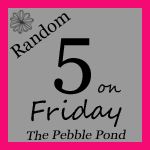 My Random Five
1. After trying to sell our house for a year we accepted an offer on our house.
2. Yesterday I went house hunting- nothing jumped out at me.
3. I am really struggling with my allergies. I can't seem to find anything that helps without sending me to sleep.
4.My husband loves Pineapple upside down cake. I found a recipe for these cupcake versions and they are the BEST. I found this awesome recipe on Pinterest from
chef in training
.
5. We don't pay for satellite TV but like to watch old shows. Right now my husband and I are currently living through
Deep Space Nine
again. The kids love it.
Pop over to the
Pebble Pond
to check out some more Random Five posts.
©2011-2013 Chickensbunniesandhomeschool. All rights reserved. All text, photographs, artwork, and other content may not be reproduced or transmitted in any form without the written consent of the author Chickensbunniesandhomeschool.blogspot.com