My children LOVE to paint, they never turn down an opportunity to get out our paints and brushes. When I was offered a chance to review a DVD art lesson by the company
See The Light
I jumped at the chance.
Dave and Pat Holt are the driving force behind this company, they are joined by an excellent group of artists and musicians to share biblical principals and art in a way that complement each other perfectly.
We were lucky enough to receive our first choice
Repeated Sweets
I chose this topic because I wanted to do this with both my son Jam (12) and daughter Boo (10) and of course sweets, cakes, donuts and ice cream would appeal to both of them.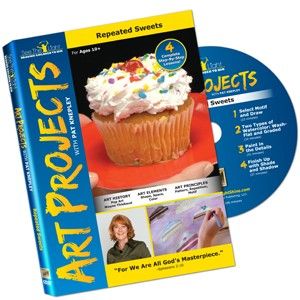 My children were very excited for this review, this excitement increase the day my husband brought home a dozen decorated doughnuts for the kids to use as props. Unfortunately they were all eaten before they were drawn and so my husband 'had' to bring more home. I think he enjoyed this part of the project the most.
Repeated Sweets
teaches watercolor techniques in the style of American Pop artist Wayne Thiebaud. The DVD contains 4 lessons each giving step by step instructions on how to create your own masterpiece. We decided to watch the video all the way through before we started to paint. This gave us the time to really focus on the instructions before the real fun started.
Pat Knepley is the Master Artist for the Art project DVDs produced by
See The Light
and my children took to her instantly, she has an excellent way of making you feel she is in the same room working right there with you. Although the video material mentioned previous lessons using phrases like "remember when we learned about" they were followed with enough review information that my children had no problem following the directions. However if you used the course in the proper order then this would help tie techniques together.
After watching the video lessons my children were ready to put the techniques to work.
They decided on what kind of 'sweet treat' they wanted to draw, while re-watching the first lesson made their templates and then traced them on to their paper.
After this the awaited moment of painting began they started with the 'Flat Wash'. My children found it very difficult to wait in between each stage of painting. We have decided that watercolor (done correctly) takes a lot of patience, which of course is an excellent virtue to have.
After leaving the flat wash to dry it was time to paint the actual sweets.
Boo managed to sneak down to paint before I could get a picture so we only have a couple of Jam painting his donuts - his sweet treat choice.
This DVD is in four lessons each focusing on a different part of the project. It is recommended to allow 1 hour per lesson.
1. SELECT MOTIF AND DRAW
(23 minutes)
2. TWO TYPES OF WATERCOLOR: WASH-FLAT AND GRADED
(24 minutes)
3. PAINT IN THE DETAILS
(31 minutes)
4. FINISH UP WITH SHADE AND SHADOW
(27 minutes)
The DVD is suitable for ages 10+ and retails for
$14.99
or available as a box set for
$99.99
Our Masterpieces
Jam chose Doughnuts
Boo chose Ice-Cream Cones
All of the projects available are;
- DRAW A WINDOW IN THE STYLE OF LOUIS COMFORT TIFFANY
- DRAW A WATERCOLOR PAINTING IN THE STYLE OF AMERICAN POP ARTIST WAYNE THIEBAUD
- CREATE A PAPER COLLAGE IN THE STYLE FRENCH ARTIST HENRI ROUSSEAU
- CREATE A FRUIT STILL LIFE IN THE STYLE OF FRENCH ARTIST GEORGES SEURAT
- CREATE AN ABSTRACT FLOWER IN THE STYLE OF AMERICAN ARTIST GEORGIA O'KEEFFE
- CREATE AN ACRYLIC OR TEMPERA PAINTING IN THE STYLE OF RUSSIAN ARTIST MARC CHAGALL
- DRAW A CHALK PASTEL IN THE STYLE OF FRENCH ARTIST EDGAR DEGAS
- PAINT A WATERCOLOR SEASCAPE IN THE STYLE OF AMERICAN ARTIST WINSLOW HOMER
- CREATE AN OIL PASTEL SUNFLOWER IN THE STYLE OF DUTCH ARTIST VINCENT VAN GOGH
We have tried other art DVDs in fact both children got one each for Christmas. This DVD is far superior to any other we have tried so far. I have even recommended this DVD to my Mom who likes art too.
Members of the Review Crew tried different products including one on 'cartooning' check out their reviews
here
or click on the link below.


©2011-2013 Chickensbunniesandhomeschool. All rights reserved. All text, photographs, artwork, and other content may not be reproduced or transmitted in any form without the written consent of the author Chickensbunniesandhomeschool.blogspot.com