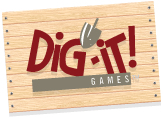 Jam loves to play computer games. So we were very excited to review
Mayan Mysteries
a computer game from the company
Dig-It Games
.
Founded by professional archaeologist and former middle-school teacher Suzi Wilczynski, Dig-It! Games develops educational games that promote creative thinking, independent learning, and cultural understanding. The company has received many awards some of which are;
NAPPA Honors * Tillywig Brain Child Award * National Parenting Center Seal of Approval *Creative Child Magazine Game of the Year * Dr. Toy Best Vacation Product * Life Buzz Award * Toy Man Award of Excellence*HERD Seal of Approval*

From their website:
Players put their puzzle skills to the test as they travel through history and uncover the adventure of Mayan Mysteries! This puzzle-based game combines in-depth study of the fascinating Maya civilization with activities that test reading comprehension, geographical knowledge, spatial reasoning, and science and math skills. Discover artifacts, decode glyphs, visit ancient Maya cities, explore the Maya calendar, and more in this exciting educational journey through history.
Mayan Mysteries
is designed for children 11 years and up (grades 5-9) and costs $21.99 for the online version and $9.99 for the
online app
. We received a single user license for one year for the online version.
The player helps Team Q solve the mysteries and as you do you can earn achievements there are 15 available.
During the game you also learn a lot about different artifacts and have the opportunity to collect them.
Jam had no problems loading the game or playing it, and since it is online you can access it from any computer with Internet, which makes it very practical. Jam has even played it at the library while I was at story time with Little J.
Although I like the look of this game and feel it is very educational, Jam was not overly impressed. He doesn't like graphic novels at all (never has) and since this game is in graphic novel format it was very off-putting to him. Other than that his only other objection was that I called it a game, there are game like features but it was definitely more educational than game from his point of view, he found it a little too much like school work and so it was definitely not something he chose to do 'out of school hours'.
I know Boo is looking forward to starting it soon, which is an added bonus of the 'start over' button.
Just a warning the mystery is not solved at the end, it is 'part one' in a series, further installments are on the way.
Although this game was not a huge hit with Jam because of the graphic novel layout, check out what other members of the Schoolhouse Review Crew thought by clicking on the graphic below.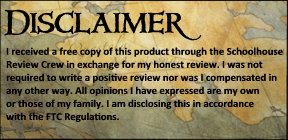 ©2011-2013 Chickensbunniesandhomeschool. All rights reserved. All text, photographs, artwork, and other content may not be reproduced or transmitted in any form without the written consent of the author Chickensbunniesandhomeschool.blogspot.com