Every since I started homeschooling two years ago one company name has been suggested to me over and over by fellow home schooler's Institute for Excellence in Writing also called IEW. I was given the amazing opportunity to review Teaching Writing: Structure and Style and Student Writing Intensive Level B.
Most of the reviews that I have done have been focused on my children. It was amazing to spend the last few weeks being taught how I can be a better teacher.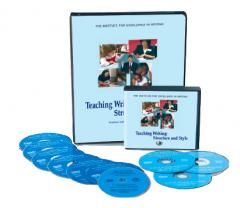 10 DVDs:

Six DVDs with instruction on the nine structural models and multiple stylistic techniques (10 hours total viewing time—may be watched all at once, or viewed one disc at a time throughout the school year)

Tips & Tricks for Teaching Through the Nine Units, a two hour supplemental DVD refresher course

Three DVDs of sample student workshops at three different grade levels to help you with that first lesson

The TWSS Seminar Workbook, which serves as the syllabus for the seminar and contains charts, word lists, sample lesson plans, and more!
Some people are natural teachers. They are entertaining and just make learning fun. Andrew Pudewa is one of those teachers. I was completely enthralled with his ability to connect and make the syllabus so interesting. I feel that this course has not only helped me teach but also helped me to improve my writing skills.
You could go the 'crash course' route and watch all 10 hours at once or watch each DVD as it comes up in your student lessons. Since my children were using the Student Writing Intensive - Level B I watched each video as I was teaching the corresponding material and I loved it. There were times that I even re-watched the material in the middle of a particular unit just to help me focus more on a particular point.
These DVDs were my first opportunity to hear Andrew Pudewa speak and he completely sucked me in. I found it fascinating that listening to an educational DVD could be so entertaining.
I loved that we were not only 'taught' how to teach the ideas and structural models but also expected to practice. After completing some of the exercises myself I definitely had more empathy for my children.
In the manual included it lists the goals of this program as followed;
1. To introduce style techniques gradually, as children are able to understand and use them, to improve creative expression, and to motivate children to write and rewrite.
2. To give children an assortment of tools that will help them add variety and interest to their writing for the rest of their lives.
3. To provide grammar instruction in the context of use.
4. To help children become aware of how style is used in what they read.
This teaching program has really helped me focus on 'how' and 'what' I teach my children. We have implemented a lot of the suggestions from the program.
I have a white board but honestly I thought that a piece of paper was adequate. I have learned from this program the benefits of a white board and group discussions. I have learned the importance of evaluating and checking their own work.
I loved that I was prepared in advance as each of the stylistic techniques were introduced. I knew what was implied by Dress-ups, Sentence Openers, Decorations, and Sentence Styles. That I was prepared to offer my children examples and to help them find their own examples.
I made my children mini wall charts, at the moment we are living out of boxes as we have just bought a new home. This way they have the wall charts 'mini style' and can still refer to them easily while writing. I used a file folder (the kind used for lap books) to make this and it slides inside their writing folders easily.
This set includes;
• Structure & Style Overview DVD for parents and teachers
• Four instructional DVDs for the student
• Three-ring binder with dividers
• Student packet containing scope & sequence, teacher's notes, and student handouts for one student (about 100 pages in all)
I was SO excited to review Student Writing Intensive - B since Jam and Boo would be going into year 7 and 5 if they were in public school I thought this level would work for both of them. The website recommends 'B' for grades 6-8 and since Boo loves to write and lets face it, is a little competitive with her older brother I decided to challenge her rather than choose Level A that is recommended for grades 3-5.
I decided to purchase an extra student folder so that Jam and Boo could both have an official looking one, you can purchase it as a download on their website.
The first thing Jam and Boo did with this program was to watch the first video segment. They were both delighted to be told that all work had to be done in pen. They also took to Andrew Pudewa straight away. During his teaching he referred to the fact that he used to teach violin and compared writing practice to playing scales and sometimes monotonousness practice exercises. My children immediately understood this as they both have been playing the piano for quite a few years. It was nice to sit and hear them laugh and raise their hands to answer questions. They became completely immersed in the lesson and forgot they were not actually there. Little J watched the video too, I asked him to do something and he said I can't, I don't want to miss any of this it's funny.
I didn't find this student course very teacher intensive. We stuck to the suggested SWI B course schedule easily. Using the included scene listings as our guide it was quick and easy to find the relevant section on the DVDs to watch. However sometimes the children got a little carried away and did more than one day's assignments - I know the 'joy' of that is amazing.
Jam and Boo found the practice text very interesting and fun. After they completed a task their Grandparents and Dad received an email containing the new paragraph. Boo even emailed it to her cousin once.
Their very first paragraph was based on 'Sea Wasps'.
Jam's paragraph;
The most venomous jelly fish is the Sea Wasp. Its poisoning ability is greater than
the most deadly snake. In search of the tiny shrimp that is their main source of sustenance they sometimes go near the beach where they can brush against a unfortunate swimmer who dies in about as many seconds as it takes to stagger ashore. It is nearly impossible to see because it's almost fully transparent. If you are planning a vacation to the coasts of either America or Europe you will sleep better to know that they are only found off the coast of Australia. This deadly blob of neurotoxin can kill over 50 people which make it the most deadly animal creature.
The

Sea

Wasp

is the most venomous member of the jelly fish family. Its poisoning ability is greater than any snake. They search for shrimp near the beach.

Sea

Wasps

are very deadly if one stings someone they would start to stagger to the shore but die in the attempt. It is very transparent and therefore difficult to see. They are not found on America or European beaches which are a terror to Australia's swimmers. This blob has neurotoxin that can kill more than 50 people. It is the deadliest creature alive.
It is funny how even the font they choose can show personality. Jam's font is 'FBI' and he thinks it is very cool.
This was by far their favorite paragraph. We had studied Sea Wasp's previously in our science lessons so it was also a fun reminder.
This program has really changed our attitude about writing, and my expectations. I now allow my children to use the computer for their final drafts, I don't bug them about handwriting, and they get to use pen and cross out their mistakes.

Jam and Boo

have started to check their work using the checklist system, this has enabled them to start noticing mistakes before I see them which is a

enormous confidence booster

. It has been an amazing experience, one that we will definitely be continuing.
If I ever get the chance to hear
Andrew Pudewa speak in person, I would definitely jump at the chance.
Teaching Writing: Structure & Style DVD Seminar with Seminar Workbook retails at $169.00 and can be used to help teach any of the three levels of Student Writing Intensive A, B, or C.
Student Writing Intensive level B is suitable for grades 6-8 and retails for $108.00 extra student books can be found here for $19.00 there is a downloadable version available too.
I review Student Writing Intensive level B however others on the crew used levels A and C plus Teaching the Classics which looks amazing. Click on the link below to read more reviews.


©2011-2013 Chickensbunniesandhomeschool. All rights reserved. All text, photographs, artwork, and other content may not be reproduced or transmitted in any form without the written consent of the author Chickensbunniesandhomeschool.blogspot.com