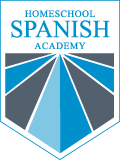 When I was offered to review
Homeschool Spanish Academy
I was SO excited.
Homeschool Spanish Academy
has been so much fun. We have been having lessons with Luisa from Guatemala. You can even sign up for a
free trial
here. I promise you won't be disappointed. We used the
Early Language Program
that costs $59.99 for half a semester (1 class a week for 7 weeks), $99.99 (1 class a week for 15 weeks), $104.99 for half a semester (2 classes a week for 7 weeks), $174.99 (2 class a week for 15 weeks). You can check out the details
here
.
Home school Spanish Academy is an online Spanish program classes are taken via the Internet using Skype. You choose your instructor and the date and time, and after a quick call from tech support to make things run as smooth as possible for your first lesson you are good to go.
There are a few technical requirements.
* You need a Internet connection (Fast enough to video chat - there is a minimum requirement however they can help you with the specifics.)
* A Skype account on your computer. (This is a free downloadable program.)
* Webcam with microphone and speakers (we used the built in one on our laptop because we had a joint lesson but you could use a Skype compatible headset with a microphone).
We already had all of these things because kids have video Skype Latin lessons with their Nana in England. This also made it very easy for my kids to navigate Skype by themselves. This isn't a problem though because it is requested that you be around during your kids lessons (when children are young).
One of the reasons I was so excited by this review was because I actually teach English this way, and I know that real conversation with a native speaker really works to help someone become fluent in a language they are learning.
When I first told Jam (12) and Boo (10) that they were going to take joint Spanish lessons on Skype they were a bit nervous especially when I told them it would be video chat.
We have used a few Spanish programs so Jam and Boo knew basic words and phrases however when we first spoke to Luisa you would think that they had never spoken a single word before. Whether it was nerves or the fact we were conversing with a "real" Spanish speaker, I don't know but it took them a little while to feel relaxed enough to answer even a simple question correctly.
Each lesson is completely customized for each student it goes at the perfect pace.
OK so let me backtrack a little and explain what we did;
First of all we had to register for paired lessons. After you have opened an account with
Homeschool Spanish Academy
you need to schedule your lessons. We were a little chaotic with our schedule since we were using this program while still on our summer light schedule (You know the kind that let's us run off to the pool on a minutes notice.) We scheduled our lessons one at a time. I don't know if this is would work now that school is back in and they are getting busier, but we were able to always have the teacher we wanted, when we wanted, so it worked well for us.
Before our initial lesson we became 'friends' with the teacher on our Skype account. I also had a phone call from the technical department to make sure that our computer and Skype account were set up correctly to prevent complications and problems that would waste lesson time.
After you book a session you receive an email confirming the date and time you have chosen. Lessons are available Monday - Friday and morning, afternoon, and evening so honestly there is a time that suits everyone. The only thing that I found you can't do is book a lesson for the current day. (So you have to book at least 24 hours in advance). Availability only shows up for the next day and onward. We never had to cancel a lesson (or reschedule one) but from my understanding you need to contact your teacher 24 hours before the lesson was due to take place.
I always set an alarm on my phone to remind me that I had scheduled a class but I love that you get a reminder email 24 hours before each class, just in case.
Boo hates being late and so she would have her laptop set up and ready to go at least 15 minutes before their lesson. Jam and Boo did not always get physical homework to do, sometimes it was a list of vocabulary words to review. However the classes were well thought out and really helped them improve their 'beginner' Spanish.
Homeschool Spanish Academy offer a wide range of classes, and it's not just for homeschoolers I feel that anyone who wants to improve their Spanish skills would benefit from these lessons.
(classes are 25 minutes long)

Middle School Program
(classes are 50 minutes long)

High School Program
(classes are 50 minutes long)

Adult Program
(classes are 50 minutes long)

The only thing Jam and Boo said that was negative about this course is that sometimes they could hear other instructors talking and it made it a little confusing. I had a little difficulty returning a homework assignment. I had printed off a pdf file for Jam and Boo to complete an assignment. To send it back I had to scan it and then upload each page one at a time. It would have made it a lot easier to have homework that they could have completed online and then just submitted. However looking at the benefit and improvement my kids have made in just 6 weeks I am willing to overlook these two minor problems.
Check out what others thought of Homeschool Spanish Academy by clicking on the link below.


©2011-2013 Chickensbunniesandhomeschool. All rights reserved. All text, photographs, artwork, and other content may not be reproduced or transmitted in any form without the written consent of the author Chickensbunniesandhomeschool.blogspot.com