When I was given the chance to review a program from
Notgrass Company
I was really excited.
I am an immigrant from England. Therefore my knowledge of American history is limited to what I was taught either in England or the three years I lived in Nebraska when I was a child.
I have been searching for a good American History program. Well I need look no further, I have found it.
The program I was offered was called
America The Beautiful
and I was completely excited (I know a lot of excitement) - I mean the name says it all and I was intrigued. I spent a lot of time looking at their website and really felt that it would be a good fit for us. In fact I was so sure that I went ahead and bought an extra set of the 'Maps and Timeline' books so that both Jam (7th grade) and Boo (5th grade) could use the full program.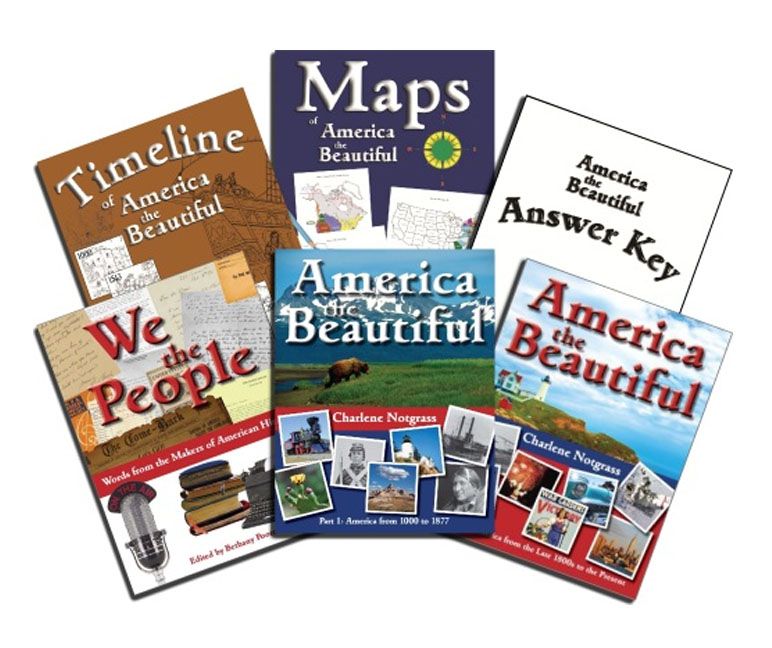 This set is amazing - as soon as we received it the kids were both excited to get started. We loved the graphics, pictures and the fact that it includes history, geography, and literature as well as bible study, vocabulary and writing. (If you decide to complete all the assignments). The program is set up in units with each lesson having a list of assignments you can choose from.
Jam has been using the
Lesson Review book
which is designed for 7th and 8th graders. Boo has been using the standard
Student workbook
designed for 5th and 6th graders they each have their own copy of the Map book and Timeline. This is important as you can not duplicate these books (even within the family) and I felt it was necessary for each of them to do the work themselves and not share a copy.
The Beautiful Curriculum Package
contains;
America the Beautiful Book 1 and 2
Book 1 has 75 lessons beginning with life in America before Europeans came and continuing through the first years after the Civil War. Book 2 also has 75 lessons beginning with America's expansion into the lands west of the Mississippi River and continuing to modern times. It also includes an index to the curriculum.
At the end of each lesson there is a list of activities.(see in the picture below)
The rest of the books;
We The People
- Which contains collection of 150 original journal entries, newspaper articles, advertisements, poems, songs, letters, short stories, speeches, and other historic documents from American history.
Maps of America the Beautiful -
A collection of 30 maps drawn especially to accompany this curriculum. Jam and Boo referred to a map in this book while reading a lesson in
America the Beautiful
and did activities on the map at the end of the lesson. (They loved this book and I loved that they were doing map work - something that I have been wanting them to work on.)
Timeline of America the Beautiful
-
This is an illustrated timeline of American history from AD 1000 to the present designed specifically to include facts learned in the lessons. Some facts are already printed on the timeline.
America the Beautiful Answer Key -
includes answers for the
Timeline
,
Student Workbook
,
Lesson Review
, and the vocabulary assignments included in the main text.
We also used the optional workbooks.
America the Beautiful Student Workbook
- A book of crosswords, find-a-words, matching, codes, drawing assignments, and other handwork activities which review and reinforce information learned in the daily lessons. Boo has really loved this book. Crosswords and find-a-words are just up her alley. This has been more like fun than work for her.
America the Beautiful Lesson Review
- A book of daily lesson review questions, literature review questions, and weekly quizzes. Jam has really been enjoying this book. According to him this is the perfect amount of writing. He would have probably enjoyed the student workbook too but this one is definitely more age appropriate.
The American the Beautiful Curriculum package costs $99.95 and the Student workbook is $11.95 and the Review book is $9.95.
We have not used book 2 yet however as you work through the book other literature books are added to the curriculum. There are some excellent stories that we are looking forward too. You can buy them
here
as a package for $59.95 or you could buy them separately or find them in the library.
This is definitely a great value curriculum, and we will definitely be finishing this program.
The America the Beautiful program gets a thumbs up from both kids I haven't heard any "but Mom it's boring" or "Do I HAVE too" all summer, which in turn gets a thumbs up from Mom.
There is SO much I could say about this program. I love the 'We the People' book. It contains all the letters, addresses, poetry, diary entries that I want my children to read from 'The Gettysburg Address to President Ronald Reagan address relating to the loss of the Challenger shuttle. It is a wealth of information and I have even started to read through it myself.
I feel that I want to go on and on telling you more about this program but I will have to stop myself. If you want to hear more (and from what I can tell this has been a huge hit with most of the crew) check out what the rest of the lucky crew members who got to review this curriculum thought by clicking on the link below.