Yeah it is Friday and I am writing this post. It means that we have not been running about as much and school has started.
1. We had our first full week of Homeschool this week. It went relatively well. We actually school year round but this summer with our visitor, water-park pass distractions, and moving house it actually felt like we did a lighter than normal summer.
2. I found a new website today
Latter-day Homeschooling
. Since I belong to
The Church of Jesus Christ of Latter-day Saints
I am very excited. It looks full of interesting articles and help for everyone not just LDS homeschoolers.

3. We have added
Easey Peasy All In One Homeschool
as our main curriculum this year. We will supplement with review products and things we can't stop doing. However I love the ease (hence the name) that this brings to our day. In fact my sister has started to homeschool this year because of this curriculum. It really takes the fear out of it.
4. My daughter has had two play dates over the last two weeks. She said yesterday that she feels like she has a friend. That made me SO happy.
5. I ordered these totally free homeschool ID cards this week check out
Alphacard
here before September 30th 2013 to order yours - They are completely FREE.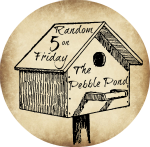 ©2011-2013 Chickensbunniesandhomeschool. All rights reserved. All text, photographs, artwork, and other content may not be reproduced or transmitted in any form without the written consent of the author Chickensbunniesandhomeschool.blogspot.com