Random 5 Friday...
1. We are having a craze on
Fawlty Towers
here at the moment. It is hilarious, if you have never seen
John Cleese
in action you definitely need to check him out. I remember a business convention I attended years ago used one of his training videos. It was the funniest training workshop I have ever attended. It does help if you like British humor.
2. I hate that the pools will be closing after this weekend. Typical after a cool August it looks like we are set for a steaming September.
3. We are in the middle of some excellent reviews at the moment. Everyone is having fun and learning at the same time.
4.Check out my
Easy Canvas Prints Giveaway
and you really should try and win the 8X10 it will definitely be worth the few minutes it will take to sign up.
5. It's Labor Day weekend and we are not doing anything this weekend. No bar-be-cues, picnic, nothing. Well my husband would not say that though. We are actually building shelves in the basement. I know sounds like fun - not. However the end result will mean I can maybe unpack a few more boxes.
Happy
Labor Day
Weekend.
Hop over to
The Pebble Pond
to see more random fives.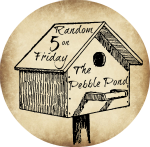 ©2011-2013 Chickensbunniesandhomeschool. All rights reserved. All text, photographs, artwork, and other content may not be reproduced or transmitted in any form without the written consent of the author Chickensbunniesandhomeschool.blogspot.com