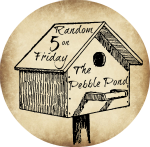 Random Five Sunday
1. Friday we spent the day at a water park. The temperature was quite cool but warm enough. The rides were amazing - no lines anywhere. We then went on to the amusement park where the lack of lines continued.
2. I was brave and let Jam ride the 'Rip Cord' with his older cousins. They even made him pull the cord that made them fall. He had a blast.
3. Little J bought himself a pocket watch just like his big brother.
4. We love living near the lake now.
5. We have applied for another
Houseparty
it is an American Girl Doll Bitty Baby party. Boo is very excited she would LOVE to be picked. Keep your fingers crossed for us.
©2011-2013 Chickensbunniesandhomeschool. All rights reserved. All text, photographs, artwork, and other content may not be reproduced or transmitted in any form without the written consent of the author Chickensbunniesandhomeschool.blogspot.com