1. I had my eyes dilated today. Little J has to have it done a lot. I will be more sympathetic next time.
2. Little J has new glasses that we are using for his Amblyopia therapy. We have a set of cards that are red and green that he uses with them. It is to try and get his eyes to work together.
3.Little J passed Level 2 Preschool Swimming Lessons by the Red Cross this week. Please forgive the picture quality - it was hard to catch him.
4. By the way as far as kid size glasses go, Little J's are amazing. They are completely plastic and so swimming lessons in them is a breeze.
5. Jam and his Dad are on a camp-out tonight and it is supposed to be COLD. Boo, Little J and I are snuggled in the house enjoying the warmth! Plus Dad and Boo are running a 5K tomorrow (Dad on no sleep.)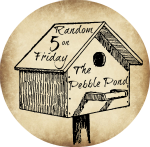 ©2011-2013 Chickensbunniesandhomeschool. All rights reserved. All text, photographs, artwork, and other content may not be reproduced or transmitted in any form without the written consent of the author Chickensbunniesandhomeschool.blogspot.com