1. Swim lessons started this week for Little J. His whole class did so well they moved them from Level 1 to Level 2.
2. It reached 88 degrees today - In OCTOBER
3. We often have pizza on Friday's - When do you normally have pizza.
4.We have a very cute dog. I took this picture but it had terrible red eye. I edited it but it still looks weird...any tips.
5. The kids are really enjoying our latest review...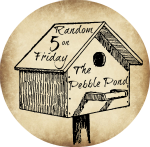 ©2011-2013 Chickensbunniesandhomeschool. All rights reserved. All text, photographs, artwork, and other content may not be reproduced or transmitted in any form without the written consent of the author Chickensbunniesandhomeschool.blogspot.com