Random Five Friday October 11th 2013
1. I made Cauliflower Pizza Crust today. I got the recipe from my friend over at
Treasuring Life's Blessings
. I was a little nervous, but everyone loved it. We added tomato sauce, ham, pineapple, and cheese and made it into a Hawaiian. I am SO trying her
Buffalo 'Chicken' Cauliflower
.
2. My friend explained to me this week that the reason I like split pea soup and hate peas is because they are not the same. All these years I have been missing out split pea soup...such a shame.
3. We are anxiously awaiting our first BuzzAgent campaign for a Transformers Rescue Bots Beam Box.
It's my first ever Buzz so I am not sure what happens next...keep posted!
4. My oldest learned how to drive our ride-on lawnmower today. My husband and I teased him that he will have to pay us to cut now, as he enjoyed it WAY to much.
5. Boo apparently only likes 'green' apples if the are cut up. They taste different if she tries to bite them they taste gross. I am not sure how that works...but as long as she eats her apple I don't mind.
Click on the link below to read more Random 5's.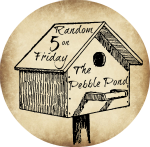 ©2011-2013 Chickensbunniesandhomeschool. All rights reserved. All text, photographs, artwork, and other content may not be reproduced or transmitted in any form without the written consent of the author Chickensbunniesandhomeschool.blogspot.com