Random Five Friday
1. Today is my Mom's Birthday. She is the best Mom every and I love her loads.
I was born four weeks early, the same year my Mom's Dad passed away and it was thought she had cancer. I was not the easiest of babies. I was taken to one hospital and my mom to another. In fact my Dad had a huge dilemma of which ambulance to follow.
My mom has always been there for me through all my trials. I love her tons! Isn't she cute!
2. I took the kids to the zoo today and it rained - we still had a blast. Little J got to play with his 'Best Friend' which happens to be his cousin.
3. We LOVE the zoo. We always have to have our pictures taken near the statues.
4. We love the Polar Bear.
5. We lit our first fire tonight in the new house - delightful
I hope you had a great Friday.
Check out other Random Fives...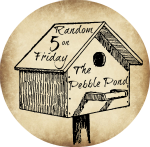 ©2011-2013 Chickensbunniesandhomeschool. All rights reserved. All text, photographs, artwork, and other content may not be reproduced or transmitted in any form without the written consent of the author Chickensbunniesandhomeschool.blogspot.com