1. Boo and I spent the morning learning how to make paper from pulp. It was great fun.
2. I had to choose new frames for Little J today. I was not convinced of the available frames. Hopefully I will like them when they arrive. The current frames have been awesome, but our new office doesn't carry them.
3. We had fun this week with our science program. Have you ever tried to stick a wooden skewer through a balloon. We have :)
4. Little J and I have been reading a new book for a review. You will have to wait a little for all the details - there will be a giveaway too - SO EXCITED.
5. Little J has such a sense of humor, today we were sat in Captain D's (fish and chips restaurant) when Little J says "There's something fishy in here" and then went on to laugh at his own joke. He is SO cute.
Check out other "Random Five's" over at the Pebble Pond.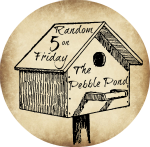 ©2011-2013 Chickensbunniesandhomeschool. All rights reserved. All text, photographs, artwork, and other content may not be reproduced or transmitted in any form without the written consent of the author Chickensbunniesandhomeschool.blogspot.com