I can't believe it is November already. Its still not really cold here (which is good) so it doesn't really feel like it should be November.
1. We had fun last night Trick or Treating. Costumes were a little last minute but turned out really cute.
2. For some reason I completely missed a picture of Jam although his costume was identical...we had three robbers.
3. I took Little J to the pool today and we practiced swimming. He managed about 5 or 6 feet all by himself.
4. Jam and Boo ran their first 5K last Saturday. Boo got a GOLD medal for her age group. She was really excited.
5.
5.We have been working hard on our final reviews for the year...So excited.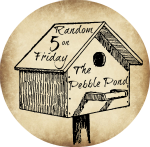 ©2011-2013 Chickensbunniesandhomeschool. All rights reserved. All text, photographs, artwork, and other content may not be reproduced or transmitted in any form without the written consent of the author Chickensbunniesandhomeschool.blogspot.com