I am late doing my post for today because I have been preparing for Boo's birthday party.
1. I made a Pinterest project for her birthday cake.
2. They are all out making smores. That's eleven, eleven year old's (and we didn't even plan the eleven eleven thing).
3. It's 8:32 and Little J is playing Jam's DS which is not a normal thing - but it keeps him from bugging the girls.
4. One of the HUGE highlights of my week is that I was invited back onto the
Schoolhouse Review Crew
. I have loved this last year, and I am so excited to see what next year holds.
5. My niece who swims for
BYU
swam in the same heat as
Missy Franklin
at a
UNLV
swim meet in Las Vegas this weekend. She was stood on the blocks in the same heat as a an Olympic swimmer. You have got to love college swimming.
Check out what others have said for their random five by clicking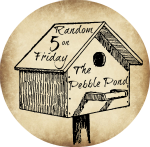 ©2011-2013 Chickensbunniesandhomeschool. All rights reserved. All text, photographs, artwork, and other content may not be reproduced or transmitted in any form without the written consent of the author Chickensbunniesandhomeschool.blogspot.com