1. This Thanksgiving was the first that the five of us spent together without any other extended family. It was different, but still good. Dad and Jam spent Thursday morning playing flag football with some friends. I can't complain at all that he left me cooking dinner, as he had already prepared the Turkey, and made the most amazing stuffing.
2. Thursday afternoon after we ate dinner, we went out for a walk. The countryside around us is amazing. I love having an excuse to take more pictures.
3. My youngest is ALL boy. Sometimes he reminds me more than others... He found something that looked REALLY interesting and insisted on digging it out.
4. I heard that my local Walmart had about 4,000 people fighting for bargains on Thursday, while I was out on a beautiful walk with my family. I know my memories of Thanksgiving will be a lot more meaningful.
5. I woke up this morning and decided to pop into Walmart as my husband wanted Turkey sandwiches. The place was SO quiet (it was 9:30 am) and I actually went around what was left of the sales and got everything I had wanted, without any of the stress or lack of sleep.
I have missed all of my extended family this year, however it has still been a perfect Thanksgiving.
Check out others Random Five.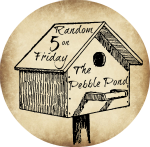 ©2011-2013 Chickensbunniesandhomeschool. All rights reserved. All text, photographs, artwork, and other content may not be reproduced or transmitted in any form without the written consent of the author Chickensbunniesandhomeschool.blogspot.com