Random Five - Friday the 13th
1. I'm not superstitious so the fact it is Friday the 13th doesn't bother me at all.
2. The kids made
Gingerbread
Graham Cracker Houses today. This year everyone worked on their own - even Little J so some of them turned out better than others.
They made a huge mess, and the houses...well like I said they had fun.
2. For once I am prepared in advance. thanks to my awesome secretary I have the Christmas presents for the Young Women in my ward (the name of a specific church area in the LDS church) made and wrapped. I am SO excited.
3. Dad has been working on Jam's new room. Last Saturday the wall went up and this morning he put the first coat of paint on. Hopefully next week I will be showing you the inside of his new room. Jam has been so patient. We moved from a small 4 bedroom house to a larger 3 bedroom. Luckily there was space to make Jam a bedroom. It's been nearly 6 months and I am ready to have the boys in their own room, and I know Jam is too.
4. I downloaded
Funnix Math
(It's free until Dec 20). Little J is really enjoying it.
5. It's been raining here all day. We are supposed to get a wintery mix as the temperature drops. Hopefully it won't snow too much as we have our Church Christmas Program tomorrow night.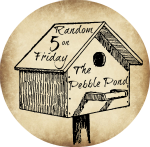 ©2011-2013 Chickensbunniesandhomeschool. All rights reserved. All text, photographs, artwork, and other content may not be reproduced or transmitted in any form without the written consent of the author Chickensbunniesandhomeschool.blogspot.com