FIVE DAYS TILL CHRISTMAS
1. Dad was given an opportunity to ring a bell this morning, he volunteered to collect change for The Salvation Army. The kids thought it was great. Little J had great fun putting all of my change into the bucket.
2. My friend dropped my a cute gift today. Don't you just love cookie mix in a jar. My pictures not brilliant but it was really cute, and I had to share.
3. This week we finally got the kids back in their own rooms. Dad started to build the wall that created the room last Saturday. Jam moved in Monday night. Monday lunchtime Dad and I had a brilliant idea for Boo's new bed (as the double bed was moved into Jam's room). Dad built the frame with Boo's help in 2 hours. The space under her bed is now the beautiful home to her American Girl Dolls.
4. I am SO excited to see my Mom and Dad tomorrow. They have been working away since the summer, and they are coming home for Christmas. Little J has been counting down the days of their return, instead of Christmas. He really is SO cute.
5. I received something fun in the mail today. I am excited to try it
Fysiko Eyelash Serum
I was told it takes about 4-6 weeks to see any results...watch this space.
Check out what others are saying in their
Random 5.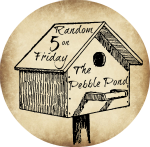 ©2011-2013 Chickensbunniesandhomeschool. All rights reserved. All text, photographs, artwork, and other content may not be reproduced or transmitted in any form without the written consent of the author Chickensbunniesandhomeschool.blogspot.com