Random Five Friday
December 6th
1. The kids and I went on a spur of the moment field trip today. Our local university has a rock climbing wall. They recently purchased small climbing harnesses - Little J approved!
2. I work with the Young Women of my church. Wednesday I gave some of the girls a hot-gun and some baubles and asked them to make something that looked like a tree, as a centerpiece. This is what they made - pretty good right.
3. It's a tradition here to put up our Christmas tree December 1st. It was fun, this year the kids did all the work, except for the star (You can't tell well from the picture but Little J needed a little help from Daddy).
4. I made Weight Watcher's Chilli for dinner tonight. It's one of our favorites.
5. We went for another one of our walks Saturday. Dad even packed up Turkey sandwiches and included some of our favorite sparkling apple juice. The kids thought that was awesome. Little J found a rock he said looked like a 'Continent' he insisted on carrying it all the way home.
It's been a fun week.
Pop over to The Pebble Pond to check out more Random Five's.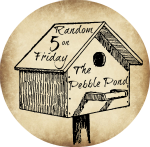 ©2011-2013 Chickensbunniesandhomeschool. All rights reserved. All text, photographs, artwork, and other content may not be reproduced or transmitted in any form without the written consent of the author Chickensbunniesandhomeschool.blogspot.com