Happy Friday :) I think the first week back after a vacation is the hardest. I am SO glad that it is Friday.
1. I have a new goal of going on the treadmill 3x a week. My old goal was 5x and it may seem like a backward step but with my schedule I never seemed to succeed with the 5 days - any only ended up with 3 or 4 so I figured instead of failing each week I would be more positive. 3 days - goal and I feel successful.
2. I heard about a cool website this morning and I have to share it. It's called
Paper Rater
and it looks really cool. I haven't tried it yet but it looks like an excellent website. The major bonus is that it is FREE and you must know by now how much I love free. Talking about school we are making our transition back to
Ambleside - Charlotte Mason based education
the kids have been SO excited this week. It's funny when we started homeschooling this was the method I chose, and the kids did a lot of moaning. After taking a break, using
Easy Peasy All in one Homeschool
and then returning to a more Charlotte Mason style education (at the kids request lol) their attitude about it is completely different.
3. I got a new book in the mail yesterday for another
Litfuse Publicity
review. I am SO excited I love Amish fiction. I am already on chapter 5 - this was swept me into the story straight away. I estimate I will be finished by the end of the weekend.
4. Guess what my husband said as he left this morning. I need to buy some wood today as I am building more shelves this weekend. Surely the shelf building will end soon.
5. After spending a week with my Mom and Dad in Mexico I am having withdrawal symptoms. My husband and I loved spending time with them. They are not only my parents, but very dear friends.
Check out other Random Five's over at the
The Pebble Pond
. In fact if you write a blog why don't you link up.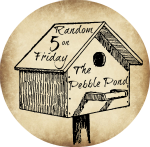 ©2011-2014 Chickensbunniesandhomeschool. All rights reserved. All text, photographs, artwork, and other content may not be reproduced or transmitted in any form without the written consent of the author Chickensbunniesandhomeschool.blogspot.com