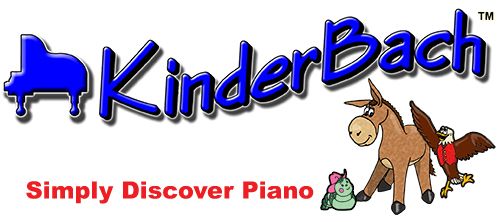 Little J really wants to play the piano. Jam and Boo have been playing for about five years but their teacher thinks Little J should wait another year before he starts regular lessons. So when I was given the opportunity to review an excellent online piano program called
KinderBach
I was really excited. KinderBach is an early education piano program designed for children aged 3-7. We used the
KinderBach at home plus Teacher corner
version. KinderBach uses fun and interactive ideas to teach note reading, rhythm, singing, and composition.
Since I had already approached our piano teacher about Little J taking piano lessons at his request he was very excited when I told him he was going to have special lessons he could do at home every day. The online membership we have been using gives you access to 240 sessions of online video - which will keep Little J busy for a really long time.
KinderBach starts by teaching the basics of music and rhythm in a way that small children can comprehend. It was great to see Little J interacting and joining in right from the very first lesson.
The first thing I did was print out the workbook for level 1 and bound it into a little book. Little J loves having a things in these books. It also helps me keep things together. However I had to reprint some parts later as I needed them on card stock or laminated for durability so I guess it would have been better to print it as I needed it. However it still worked out OK.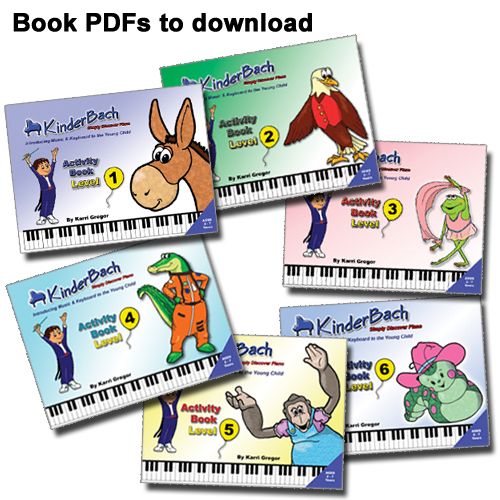 The first lesson introduced high and low sounds and used a lot of movement bending down when we heard a low note and standing tall for high notes. This is one of the things Little J loved about the program, a lot of the activities had him moving around - or making noise. Which for anyone that has a five year old boy can completely understand. The lessons progress at a very steady pace. Fast enough to keep Little J interested but slow enough that he could keep up with the information.
We have used this program almost everyday since we received our subscription. I have not had to even ask, Little J asked me..."Can I do my piano practice today!" (Music to my ears).
One of the great features of this program from a parents point of view are the excellent parent guides. It explains the six areas of musical development; Ear or listening skills, Note reading, Rhythm, Technique, Singing, and Composition.
Coming from Little J's perspective is the fact that he thinks he is 'playing' the piano. The way the lessons are taught has made him feel successful right from the beginning, even if he is just playing a one note song. Keeping in time, playing on beat and following along from his sheet music in his book really made him feel like a star. This video is Little J playing for the very first time, you can see how proud he is.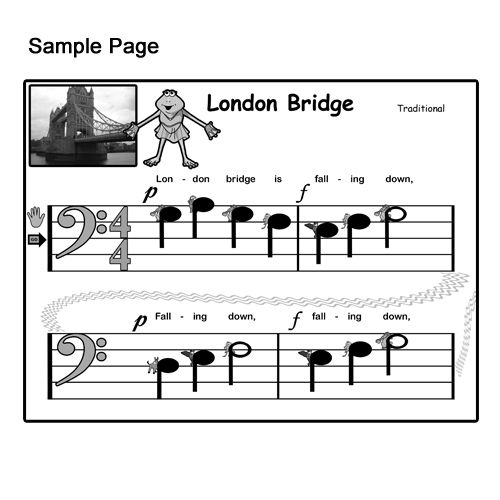 I mentioned the parent help section earlier, I also had access to the Teachers Corner. This is a great deal and costs only $95.88 for a limited time (normally $130.00) which works out at $7.99 a month for a year! If you think of the cost of regular piano lessons, plus transport cost this could be a real saving, and really set the stage for future success,
The Teacher corner has great digital downloads and everything you would need to teach this to a group. Since I only have Little J using this program I really didn't need a lot of the resources to help you teach to a group, but the digital downloads are awesome.
KinderBach uses fun cartoon characters to introduce new notes and concepts to the children/child. Little J loves
Dodi
which is the first cartoon introduced. You can see all the characters
here
.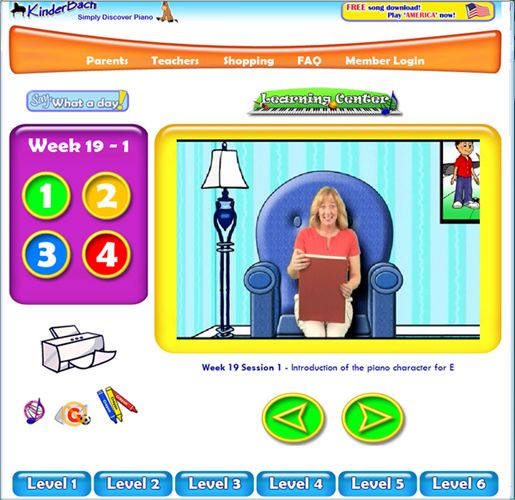 I think you can tell Little J loves this program and we will definitely be continuing our piano lessons. I love that he is having music instruction and that he loves it. It's definitely a win win situation.
Piano is a really important part of our children's education. In fact my husband has been known to say that is a 'mandatory subject' in our home-school. This makes this program even more appealing for us. I love that Little J is having such a fun introduction to music. Creating a love of music is very important. I have really let Little J run with this program. I have let him do as many lessons as he wanted, sometimes up to two or three in a day until he wants to move onto something else.
We really have had no problems with this program. I think there was a day or two that we couldn't sign in. I called the company, left a voice mail and by the next day the problem was solved and I received an email back making sure I my problem was solved. Very quick customer service and my son was happily doing his music practice again.
So just to recap;
I reviewed
KinderBach Piano Lessons Online with Teacher Corner
which retails at $130.00 for a year. However it is currently on special for $95.88 which works out at $7.99 a month.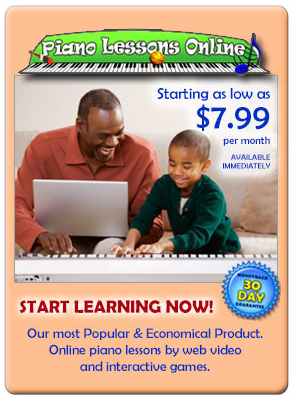 The program is designed for children 3-7 years old.
Needed Supplies
1. Reliable high speed internet.
2. Computer or pad to stream the video lessons
3. Piano or Key board
4. Printer, paper and craft supplies
5. Pots, pans, spoons, or other rhythm instruments
We have a full size electric piano with weighted keys because our older two play. However you could definitely start this program with a smaller keyboard.
If you want to connect with the company you can click on any of the links below.
Facebook
Twitter
Pinterest
To check out what others thought of this program, or the available iPad app click below.


©2011-2014 Chickensbunniesandhomeschool. All rights reserved. All text, photographs, artwork, and other content may not be reproduced or transmitted in any form without the written consent of the author Chickensbunniesandhomeschool.blogspot.com