Random 5 Friday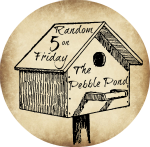 1. I am finding it hard to be random today. I am going to a friend's daughter's funeral. She was 20. Faith is a funny thing, you never know how much you have until you need it.
2. This week I really appreciated the joy of homeschooling my children. The weather has been yucky. Snow and ice everywhere. I can't count how many school days the local school district's have called. I know some of them have missed this whole week for starters. We however have had no break in our schedule it's been great. The kids are looking forward to playing in the snow this weekend for longer that 'break-time or lunch'.
3. I am not a play in the snow kind of person. I would love to be, but if I am honest I'm not. I hate it. I hate all the effort that it takes to get everyone bundled up, and outside. Almost always someone needs to come back in for an emergency pit stop and everything has to come off...Why not just look at it from next to the fireplace drinking a hot chocolate. Why do we have to go out and get cold, just to drink the hot chocolate. Saying that I am thinking of taking the kids sledding Saturday...that is if I can find somewhere in our new town. You see, I love seeing my kids have fun more than I hate snow.
4. New technology is hitting our house this week. My husband's work has started a healthy initiative to help us save some money on health insurance. My husband and I will be sporting these lovely
Fitbit
bracelets. Oh I wish they came standard in prettier colors. I guess I will learn to love my new slate grey bracelet. My sister has one and loves it, so hopefully it will help us keep track of healthy lifestyle changes. I will tell you more as I wear it. After checking on their website I could have got a pretty pink one if I have ordered directly from them instead of my friendly local Walmart.
5. I am getting a new phone. I am SO excited. I left my regular phone carrier when my contract expired and jumped to
Straight Talk
because I didn't want to be on a contract. I have tried really tried to put up with my phone. However this week my husband had enough of my moaning (did I do that aloud that often lol) about no flash, no memory... and a bunch of other problems with my cheap Huawei phone. He also hates the fact I am hardly ever taking pictures. Anyway I happened to stumble across a deal at Walmart.com. Samsung Galaxy 3 for Straight Talk. Needless to say I am excited and keep checking my mailbox. I will take pictures again soon!!!
Just to prove I do brave the snow sometimes... Ok so I just brave it to take pictures.
I am looking forward to summer. I am a lot more playful in the pool. Check out other Random 5's over at the Pebble Pond.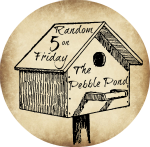 ©2011-2014 Chickensbunniesandhomeschool. All rights reserved. All text, photographs, artwork, and other content may not be reproduced or transmitted in any form without the written consent of the author Chickensbunniesandhomeschool.blogspot.com