I love it when the sun is shining and the weather looks like spring is coming - I hope it's not just teasing me.
1. I need to find a cute dress in grey for three girls aged 8 - 11 any ideas would be welcome.
2. Tuesday this week was beautiful here. We planned a Zoo trip with the cousins and it was perfect.
3.This week my husband and Jam trimmed our trees. Little J helped out for about two minutes and then got carried away playing with the melting ice.
4. I am so excited, I will be posting my first two reviews next week (both for my 5 year old). I can't choose a favorite Little J loved both of them. Come back next week to read more!
5. Saturday morning we cooked our Valentine's breakfast. It was a spur of the moment thing. I cooked a fresh strawberry sauce, and hubby made french toast out of some crusty bread we had. Little J was sad at first because he wanted pancakes. However after taking a couple of bites he decided it was better than plain old pancakes.
Check out more randomness over at
The Pebble Pond.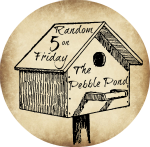 ©2011-2014 Chickensbunniesandhomeschool. All rights reserved. All text, photographs, artwork, and other content may not be reproduced or transmitted in any form without the written consent of the author Chickensbunniesandhomeschool.blogspot.com