1. My husband normally buys me a dozen roses and one for Boo every year. This year we got a treat. Mini rose bushes!!! They are so sweet. I love that I will be able to look at them for more than just three o

r four days.
2. Is it wrong that my kids think that Valentines day should be a major holiday

!
3. Little J bought a notebook at the Dollar

Tree this week and has been putting it to good use.
4. Boo posted her favorite poem this week on her blog
Lavagirl Rocks
. The Thousandth Man by Rudyard Kipling.
5. As you know I am from England. Now and again it's fun to hear the accent. I have been watching a fun series called
Hetty Wainthropp Investigates.
It's considered a TVPG I love hearing the Yorkshire accent. It is also available on Youtube - which is great.
Check out what other people are saying by clicking on the link below...it will take you over to
The Pebble Pond
.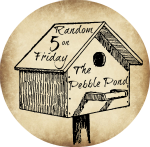 ©2011-2014 Chickensbunniesandhomeschool. All rights reserved. All text, photographs, artwork, and other content may not be reproduced or transmitted in any form without the written consent of the author Chickensbunniesandhomeschool.blogspot.com