Little J and I have had a wonderful time reviewing
Science4Us.com
. However before I go into the how we used it, let me tell you about it.
Science4Us.com
is an early elementary online science program designed for ages kindergarten to second grade. The site is designed into four categories Earth/Space, Life, Inquiry, and Physical Science.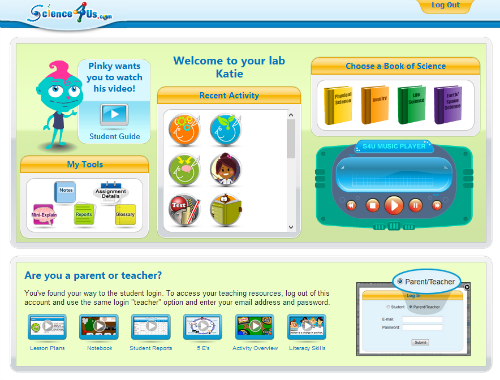 I was a little concerned how well Little J would manage with this program because he is not a fluent reader yet. However the program reads everything aloud and Little J was able to do most of this program without any help at all. There are a couple of the exercises that he liked me to sit next to him while he completed them, but not really because he couldn't do it, more for moral support.
After we logged into the program I read the four areas of science to Little J, he decided he wanted to start with Earth and Space Science. Mainly because he loves everything about space. I mean what five year old doesn't want to be an astronaut. You then have two choices. You can log in as a teacher and make work assignments or just let your child choose the activities that interest them. I decided to log into the teacher section and make assignments for Little J. When making assignments you have the choice to set a due date or just assign the work. I chose not to give Little J due dates, mainly because of his age I wanted his just to work at his own paste. If he was older maybe 1st or 2nd grade then I may have chosen to do that. However Little J loved this program so much that setting due dates really wouldn't have mattered anyway as he would sometimes complete a whole section in a day.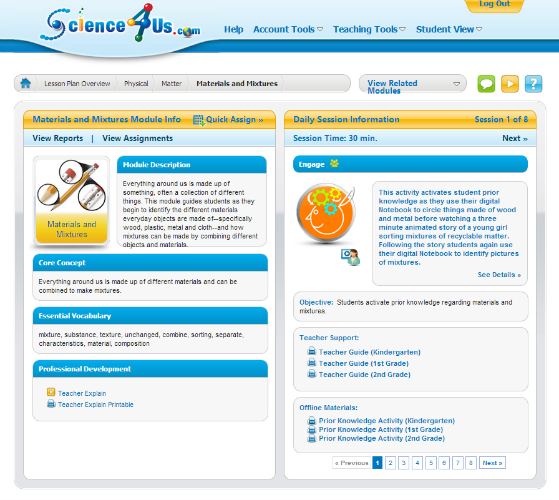 We started on the section about the earth. The topics covered were History of Earth, Materials, Features, and Weather. We then moved onto space and we learned about Exploring the Universe, and Earth in Space. Little J flew through these topics. It has been fun to hear him talk about the moon and space as we go about our day.
Little J's favorite activity by far is the section called 'SillyBulls' this is a play on words for 'Syllables'. This game uses all of the new vocabulary learned in the chapter and the child puts the syllables in order to put the words back together. Little J did an excellent job clicking on each syllable (as you click on it reads the sound) and placing them in the correct order. Another exercise I like is an exercise putting the new vocabulary word in alphabetical order. This was the first time Little J had done this and it was a great introduction. I sit next to him and we look at the words saying the alphabet together and looking at the words. Working together he was able to do it every time. It even introduced using the second letter to alphabetize this took a little explanation on my part and then he was able to identify it quite quickly the next time it happened. Although these concepts are more suitable for an older student with help Little J handled them well. Since the program allows you to assign work it would be easy to skip these assignments if you wanted too. I decided just to work with Little J and introduce the concepts.
Since starting this program we have completed the 'Earth/Space Module' and most of Physical Science. I know Little J has already decided what he is doing next.
We have thoroughly enjoyed this program. Little J feels such a big boy having his own science curriculum. I have often found him sneaking on his brother's laptop. If he continues to excel using this kind of curriculum I can see another computer purchase in our future. Maybe this time we will try a new Chrome book. The only thing I would change would to be able for Little J to use this on his little pad. However because it doesn't support flash player it won't work. This is of course not a problem with the program more a problem with the pad itself.
I would love to see an app that would sync to the online program for play on the go, I use Android and so of course that would be my preference. The only other fault I can find with the program is the ease of viewing records. The only way I can see what Little J has done is to click through each section. If Little J goes a little crazy jumping around with different subjects, it can get a little difficult to keep track. I would love to be able to log into one screen and see all of the modules at once. All in all Little J loved this program, and the small hassle of looking for completed work is well worth his enjoyment.
Science4Us.com
costs $7.99 per child per month. The program is intended for children in grade K-2 however it could be used for grades 3-5 as a way to review science material.
Check out more reviews by other crew members by clicking on the link below or clicking
here.


Twitter:
https://twitter.com/Science4UsSays
Pinterest:
http://www.pinterest.com/science4us/
Facebook:
https://www.facebook.com/Science4Us
G+:
https://plus.google.com/u/0/b/112259351657747584252/
©2011-2014 Chickensbunniesandhomeschool. All rights reserved. All text, photographs, artwork, and other content may not be reproduced or transmitted in any form without the written consent of the author Chickensbunniesandhomeschool.blogspot.com