Little J has really been hitting the jackpot with our reviews so far this school year. We have had some great stuff and
Spelling You See
definitely did not disappoint. If you think the name sounds familiar you would be right. Spelling You See is produced by the same company that produces the infamous home-school math program Math-U-See.

Little J knows all of his alphabet and letter sounds and has been really doing well with his reading program so although he is only five and if he was going to public school wouldn't be in Kindergarten till August I decided to try
Spelling You See - Jack and Jill Level B
with him instead of
Spelling You See Listen and Write Level A
and I am so glad that we did. Little J has seriously loved this curriculum I can't wait to see how he improves as we work through both books.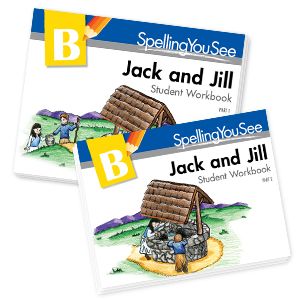 The Spelling You See founders have the philosophy that to learn to spell requires learning things in a certain order, in the same way as we learn to walk. These stages are very important and should not be skipped although they can be taught at different speeds depending on the child's ability and skill. This is why there is no set grade level. The program also focuses a lot on visual learning. You can read more about their philosophy
here
. There is also a cool video I would recommend checking out.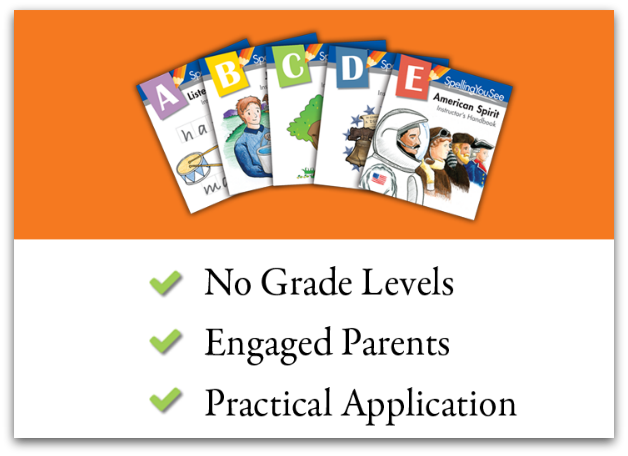 Spelling You See is not divided up into grade levels like other curriculum but is based on ability. Currently there is five levels but I heard that there will be at least two more levels. The levels are A-E and each level has a sample PDF that you can download
here.
Basically the program is designed for preschool-10 years old. The key thing when deciding where to start is not the reading level of the child but the spelling level - interesting right! One last thing if you wanted to find out where to place your child in this program there are
guidelines
to help you figure it out.
What You Get;
Jack and Jill (Level B) Starter pack
- $30.00
2 student workbooks
1 pack of colored pencils
1 handwriting guide
Jack and Jill (Level B) Instructor Book
- $16.00
What Little J Thought;
Little J loved this program for many reasons. First, the lessons are designing to be short, there is no messing around or twaddle involved. In fact for the most part we try to follow a Charlotte Mason type education and this programs fits in very well with that way of thinking. Second, Little J loves the nursery rhymes, they caught his attention straight away and he spends all week reciting the one that we are working on. Third, he loves that from the very first day he has been writing words, and yes that has definitely been a huge plus with him. I loved it because it was easy to do away from home. This month we have spent two afternoons at our local pool while my older two have their swim team practice. We had to stay because Little J had swimming lessons right after swim team which made it impractical to go home. It was easy to grab these books and our colored pencils and do a spelling lesson in the waiting area. Luckily the waiting area is full of tables and chairs. We did this every time Little J had a swim lesson.
How We Used It
;
The program is split up into 36 lessons each split into 5 daily lessons. We completed one lesson 5 days a week. I have not even asked Little J to do this program he reminds me everyday to do his spelling program. On top of the first page each day is a list of easy instructions. Following these instructions is easy;
I would read the nursery rhyme. Next we would say it again clapping to the rhythm. Then we read it again slowly pointing to each word as we went along. This method really helped Little J with his reading confidence. Every day as we read the same nursery rhyme he found it easier to read it himself. Of course a lot of that was memorization too, but I am OK with that. The next part of of the lesson Little J completed a section of copy work, which was of course the passage we read together. The child then follows the third instructions for example 'underline words that begin with a capital or lowercase t' or 'circle all of the quotation marks'.
The second page of the daily lesson was split into two sections. Tracing and writing letters, with the instructions of saying the sounds as you write. The focus is on the lower case letters as they are the ones written most frequently. When we started the program Little J would ask, can I write an upper case letter. I would say, no not unless it is the beginning of a sentence or a proper noun. For some reason he LOVES upper case letters. The second part of this page starts of with easy dictation. Some of the words are even written lightly on the page so that the child can trace them. As the book progresses the child is writing each word from dictation progressing from three letter words to five letter words. The words used for dictation are found in the instructor's book.
We haven't finished the first workbook yet but I am really happy with the progress made. Little J has started to write more on his own. He can write some of the words but asks for help with the ones he is unsure off. Just you can't read it he wrote "Today I got a cool star wars pen".
The first book covers lessons 1-18 and the second book 19-36. Now remember each lesson contains 5 small sections one for each day of the week. It is recommended to set a timer for 10 minutes especially at this young age, but Little J wouldn't have it. He liked to finish all of the lesson. Sometimes I would pick up his book to start our next lesson only to find that he had done the copy work for that day.
This program definitely suits Little J's learning style and my teaching style. I will hopefully purchase the next level although I do think it's a little pricey. I think it's a shame that the instructor book has to be bought separately as the program really can't be used without it, the $46.00 price tag for both seems quite steep.
The only negative thing is that they are not spiral bound. Little J gets a little frustrated as he says it's hard to write neatly near the spine on the left hand page. The pages are perforated for easy removal but I really don't want to do that as loose papers tend to get lost here. It's easier for me to keep track of everything if it stays in the book.
I think using this program along side with our current phonics reading program will be a good balance.
Check out what others thought by clicking on the link below. Make sure to check out all the different levels.
Social Media
Facebook SpellingYouSee
Twitter @SpellingYouSee


©2011-2014 Chickensbunniesandhomeschool. All rights reserved. All text, photographs, artwork, and other content may not be reproduced or transmitted in any form without the written consent of the author Chickensbunniesandhomeschool.blogspot.com