1. Last Sunday it felt like spring had sprung! It's been typical spring weather all week jumping from hot to cold. Luckily today it is warm and the kids are enjoying another afternoon playing outside with friends.
2. It's spring break for our local school district, they get quite a few days off despite the snow days. Do you talk a break for spring? We normally just work on through unless we are going away.
3. I am SO glad it's Friday I haven't slept in past 6 for 10 days...tomorrow NO ALARMS. The change in the clock really messes me up. I hope I can sleep in or else I may cry.
4. We are working on some really great school stuff this week. Jam and Little J are working with a new program called
CTC Math
. Both of them are really enjoying it. Jam is working on Basic Math and Pre-Algebra which is there program designed for 7th grade. Little J is working on Kindergarten. This week he has covered the first three units in Number, Pattern, and Algebra - yes that's Algebra in Kindergarten
5. The other new program we are working on is Life of Fred we use have been using the math books for a while, in fact Little J started
Apples
the first elementary book. We only started yesterday and we have done three chapters already. The older two started on another Life of Fred series
Life of Fred Language Arts
I ordered the first book
Australia
and the kids love it. Even Boo (officially my 5th grader although she does a lot harder work) loves it. They are recommended for High School but start of easier and so we are going to work through them hopefully twice. There are four altogether.
Whoops no pictures today, I better find some! I obviously took more pictures of Little J this week...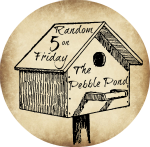 ©2011-2014 Chickensbunniesandhomeschool. All rights reserved. All text, photographs, artwork, and other content may not be reproduced or transmitted in any form without the written consent of the author Chickensbunniesandhomeschool.blogspot.com