1.This week has felt like a blur...I have been down with a cold and just managed to get the mandatory stuff done so I completely missed my wordless Wednesday post. Which is really sad because I have started to really enjoy them.
2. I like to help solve problems. I like to help people. It really hurts my heart to see people I love going through something knowing I can't really help. Just saying...
3. Little J finished his Red Cross level 3 preschool swim lessons. He did an awesome job and they told me he is ready for Red Cross Level 2 - non preschool levels called 'Learn to Swim'. Which is excellent as we have started to level the ground for our above ground pool. It's really hard work, and I am SO glad that my husband is such a hard worker.
4. I bought Mrs Meyers hand and body soap by mistake this week instead of the liquid soap. Major fail as I wanted it to make homemade cleaning solutions. Well at least my hands will enjoy it. I may even try it as bubble bath or shower gel!
5. Last Friday I went to the zoo with my Brother and Sister in Law and their kids. We had a nice time, except for the fact my Sister in law and Jam were sick...with me catching up with them. When we left the house Jam felt fine. After our hour drive...not so much. He still put on a brave face though.
Aren't those hippos the cutest...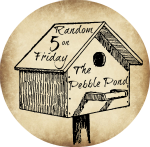 ©2011-2014 Chickensbunniesandhomeschool. All rights reserved. All text, photographs, artwork, and other content may not be reproduced or transmitted in any form without the written consent of the author Chickensbunniesandhomeschool.blogspot.com