We love science and DVDs so when we had the opportunity to review
ScienceandMath.com
and their
Amazing Science - Volume 1 DVD
Little J and I were very excited.
Little J loves being able to watch TV however I try to limit it as much as possible to documentary's and educational programs. Luckily for the most part Little J complies, and
Amazing Science
definitely did not disapoint.
The DVD is designed to help children grades 1-3 to learn science in a fun and visual way. Little J is in Kindergarten and loves it however, my older two are 13 and 11 and they love it too. If you buy this DVD expect everyone in your house to enjoy it! We even shared it with our friends that we do science with and they loved it too!

A couple of Saturdays ago My husband and older kids went out rock hunting, and I had a meeting at home. So I popped in this DVD and Little J watch 11 experiments by the time I was done, and believe me he would have watched it for a lot longer.
We have watched this DVD together and Little J watched it multiple times by himself. He loves to tell me in detail about each experiment, what happened and why. Sometimes when we do experiments at home the results are less than optimal. I am sure that we are not the only family that suffers with failed experiments. Of course I am not talking all the time...sometimes they work. What I like about these videos is that we get to see what 'should' happen first and watch the experiment done so we can 'copy' when we do it, or re-watch to see where we went wrong. However all the videos we watched and then did the experiments for all turned out great.
We did the floating egg experiment more than once because Little J could do it by himself. The first time our water looked a little cloudy and it was harder to see the egg float, so we did it again and let the solution settle. It was a lot clearer.
There are so many experiments on the DVD that it would have been great if there was an insert included to help you gather supplies, a shopping list of sorts. A fellow blogger and reviewer of this DVD actually made one that you can download for free. You can find her review with the downloadable list
here
.
We still have many experiments to try, I really want to do the Dry Ice Bubbles and will definitely get together with our science buddy family to work on a lot more of these together (she also knows where to get dry ice - and how to handle it). We are definitely working through all of the experiments. The kids are planning to get Dad involved with the 'Un-burnable Money' experiment. You can see some sample experiment videos
here
including color changing milk (Little J could do this ALL DAY) and cloud in a bottle.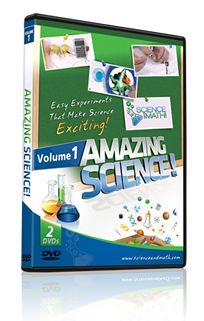 Jason Gibson is the creator of
ScienceandMath.com
and his goal is to "kindle your love of Science, math, and the world around you" well Little J has definitely had his love of science kindled during this review. We will be watching these videos and redoing the experiments over and over. I love that most of the experiments are done with items found in most homes, a plus for those trying to study and teach science on a budget.
For those who think credentials are important Jason Gibson has a advanced degrees in Engineering and Physics, and has worked as a Rocket Scientist for NASA.
This DVD is definitely a keeper in our library.
Connect with
ScienceandMath.com
on Facebook
here
The
Amazing Science - DVD Volume 1
retails for $24.99 or download price of $14.99 and is designed for grade 1-3


©2011-2014 Chickensbunniesandhomeschool. All rights reserved. All text, photographs, artwork, and other content may not be reproduced or transmitted in any form without the written consent of the author Chickensbunniesandhomeschool.blogspot.com