Random 5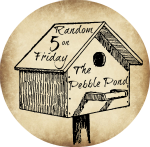 1. My husband took me out on a date last night. We went to see Divergent. I am half way through book 2. The one thing I hate is when they change things from the book. If you liked the movie you HAVE to read the book. It is SO much better. (I did like the movie...just not as much as the book.)
2. I ordered Boo new piano books this week she's moving on to level 4 of her piano series. It only has 5 levels. I was a little surprised. I also ordered both of them a fun book each. They both chose the 'Rock and Roll' book. Our house will be filled with sounds of 'Great Balls Of Fire' soon because I know Boo will LOVE that one.
3. Daddy is taking Boo to a Daddy Daughter Dance Saturday night. When I said that Dad was taking her on a date she laughed and said "But Mom I can't date till I'm 16" ha ha ha.
4. The circle for the pool is finished and now I have a pile of sand next to it ready for the next step.
5. My love for A1 sauce has been officially passed on to my youngest...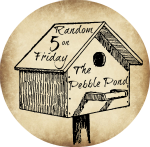 ©2011-2014 Chickensbunniesandhomeschool. All rights reserved. All text, photographs, artwork, and other content may not be reproduced or transmitted in any form without the written consent of the author Chickensbunniesandhomeschool.blogspot.com