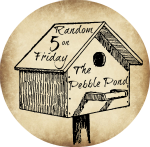 1. My husband and I are going for our biometrics today. It's the next stage in our Citizenship application. We have lived in the US for 15 years. It will be exciting to finally become citizens.
2. My husband is taking Boo to a Daddy Daughter Ball next Saturday. So a dress shopping trip is also on our radar for today (and maybe new shoes too...we will have to see).
3. My sister is planning on taking the kids to an Archery Range this afternoon while my husband and I are getting our biometrics down. Hopefully it won't be too windy and cold. We have had some real bad storms here the last two days.
4. I made a new baked granola recipe yesterday, and LOVED it. I took the kids to the local Amish store (OK local is pushing it a bit as it's 15 miles away) to buy all the ingredients. My Mom just sent me the recipe she used to make when I was a kid...so maybe I will have to try that one next time. It's actually really similar so maybe I will just mix the two recipes and see what happens. I will post the recipe soon.
5. I just signed up for
Sparks Naturals
Oil of the month club this week. I have been so impressed with their customer service and can't wait to get me first oil. I also signed up as an affiliate so if you use my code
chickens
you can get 10% off your order (except for the Oil of the Month Club as that's already discounted).
Pop over to the
Pebble Pond
to read more Random five posts.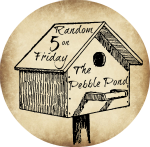 ©2011-2014 Chickensbunniesandhomeschool. All rights reserved. All text, photographs, artwork, and other content may not be reproduced or transmitted in any form without the written consent of the author Chickensbunniesandhomeschool.blogspot.com