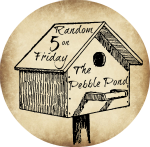 1. Today at 8:30 AM I decided to go to the Zoo. It's how we roll here, spur of the moment decisions. It was awesome, 75 degrees and sunny. I called a friend who came along with her son. It was a good day.
2. We are adding the sand to the bottom of the pool tomorrow. Then the only thing to do I think will be to add the liner and fill it up...Are you excited, I am! Then we just need the summer to come!
3. If you are looking for a math program you should check out my
CTC Math Review
. We all love this program.
4. Boo is doing great on the piano have you checked out her latest accomplishment
Pachelbel Canon
.
5. My brother and his family are moving this weekend to another State. I am really sad but glad for them and hope all the best for them. I am just sad they will be 5 hours away.
Don't forget to check out other Random Five's over at the Pebble Pond.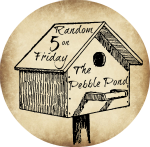 ©2011-2014 Chickensbunniesandhomeschool. All rights reserved. All text, photographs, artwork, and other content may not be reproduced or transmitted in any form without the written consent of the author Chickensbunniesandhomeschool.blogspot.com