Today has been a little weird. Do you find that when you have a Friday off you keep thinking its Saturday.
So here's my Random Five for the day.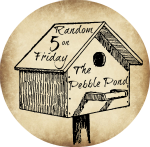 1. I have a five year old completely crazy about Captain America.
2. Today we finished putting the frame up for our pool. We keep thinking about how nice it will be in the summer when it's stinking hot!
3. My husband told me today the jobs he wants to get done in the next two months...then he intends to go to work and come home and play all summer. Sounds like a plan to me. So today we made our flower beds weed free why he worked on the pool. A couple more things on the pool and then he's going to start on my new office. I am SO excited.
4. My five year old just shouted "Oh no I have messed up my hair!"
5. We have the dates for our Naturalization interviews. We are SO excited. My husband said he wouldn't wear red, white, and blue on July 4th until we were citizens. So maybe this will be the year to buy him a new T.Shirt!
Check out other Random Fives by popping over to
The Pebble Pond
.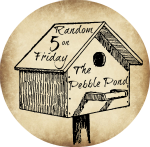 ©2011-2014 Chickensbunniesandhomeschool. All rights reserved. All text, photographs, artwork, and other content may not be reproduced or transmitted in any form without the written consent of the author Chickensbunniesandhomeschool.blogspot.com