I am not the most motivated Mom when it comes to doing science experiments. However my kids love science. My kids were very excited when they heard that we were given the opportunity to review the K-12 Level Plan of the
e-Science Premium Membership
of
Supercharged Science
a online e-Science Online Learning Program. I received a 6 month subscription
K-12
which usually cost
$57
per month. You can also get a
K-8
subscription that costs
$37
per month.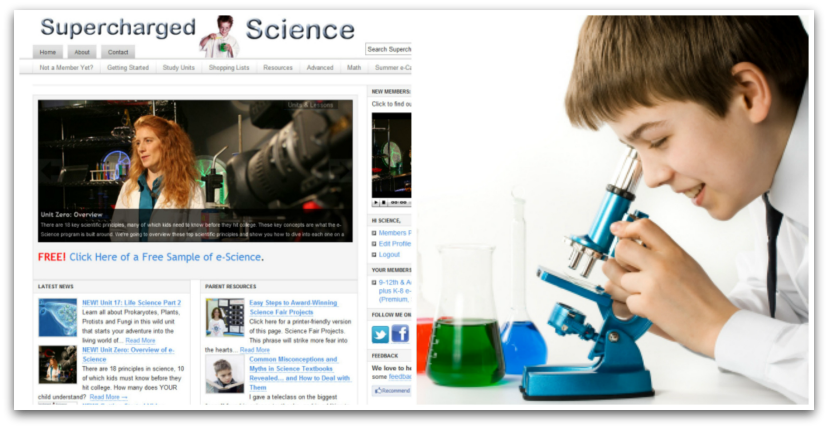 Supercharged Science
is the brain child of Aurora Lipper she wanted to find a way to provide excellent science education to parents and educators, and believe me this is something that she has succeeded in doing.
Aurora Lipper has a Bachelor's Degree in Mechanical Engineering (with a Minor in Mathematics and a senior project in Rocket Science) a Master's Degree in Mechanical Engineering. She has worked at NASA, been an instructor in University where she taught Statics, Dynamics, Engineering Systems, and loads more. Click
here
to read an interview with her.
A lot of our science classes we do with another family and so we took the opportunity to share this program with them too. As we were finishing up another program we looked for some sections on Supercharged Science that linked the programs together to get us started. We had great fun scrolling through the sections. We found a section on 'Magnets' which was perfect. We told the kids that we would watch one of the videos and do the experiment. We ended up watch every video in the section and the kids loved them. When we finally dragged them away we were able to do the experiments we had planned to do.
Since we have a wide age gap we haven't spent a lot of time working through the individual age sections on the website. However I can completely understand how this would be beneficial if you are just working with one child or a group of children in one age group. Since I have a 5 year old, 11 year old and a 13 year old and my friend has a 4 year old, 10 year old and 12 year old we have picked topics we find interesting to work on with the kids.
Boo liked to sit and watch the videos. She is a very visual learner. Most of the science we have done so far is to read about the facts, read about the experiments and try to duplicate what we have read. This time it was nice to actually see what the experiment was supposed to do/or look like before we actually did it.
here
(a $30 value free).
So I mentioned earlier that there are two main ways to use this program. One is by subject or topic (of which there is 20) the other is by grade (K-12 or K-8 depending on which subscription you have). As you can see by the screen shot below it's really easy to identify where to click on the top of the screen.
So what do you get with the Supercharged Science e-science online learning program.
1. Online support. Aurora is available on the website and will answer questions and comments directly on the website.
2. Detailed video based lessons taught by - you guessed it Aurora. (AKA Rocket Scientist and according to my kids that is cool).
3. Step by Step instructions (in video format).
4. Self guided lessons - so your kids can work through it by themselves.
5. Exercises and Quizzes
6. Plus Teacher guides.
What do you need to use this program.
1. Computer or Laptop
2. Fast Internet connection
3. Money for supplies
4. Printer / Notebook - There are various worksheets etc to print out.
The layout of this website was a little daunting. In fact it probably scared me to death at first. There is SO much information her. It's also not quite the easiest to negotiate your way around. However after we had been using it for a while I found this awesome
User Guide
right there in the top right hand corner of the screen. If only I had seen that before!
If you want to check out this cool home-school science program Aurora has given me the opportunity to let you try it out for just $1 so if you are interested in that click
here
.
If you want to follow Supercharged Science on social media here are the links;
Facebook
Twitter
YouTube
Pinterest
Google+
Blog
Because of the wide age and topic range I recommend that you check out what other people thought by clicking on the link below.


©2011-2014 Chickensbunniesandhomeschool. All rights reserved. All text, photographs, artwork, and other content may not be reproduced or transmitted in any form without the written consent of the author Chickensbunniesandhomeschool.blogspot.com