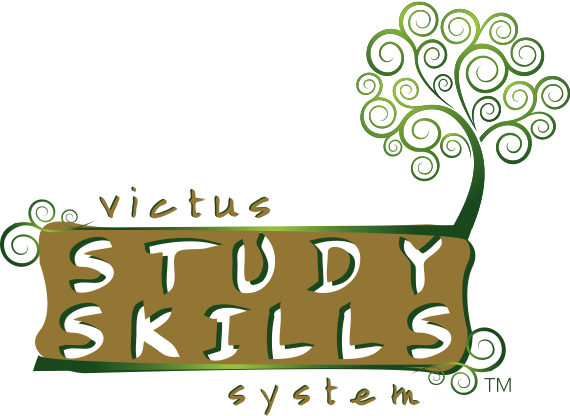 I think learning how to study is one of the most important things to learn. When we were given the chance to review
The Victus Study Skills System
I was really intrigued. Jam and I spent some time looking at their website and decided to give it ago. I was interested in the concept and so was he. We received the
Victus Study Skills Teacher Edition and Student Edition Workbook
were soft covered and spiral bound (my favorite kind of workbook for writing in).
We have been a homeschooling for about three years...wow time has flown. Jam had just finished 4th grade when we started and he has been excellent at planning his time and very motivated with his school work for the most part. I give him a daily schedule and he works out the rest. He has the choice of when to do what and it's his responsibility to make sure everything gets done by the end of the day. However I have never really sat down and taught him study skills, I guess I just took it for granted because he has always excelled.
There is a quote on the front of the student notebook that I love, in fact it really sums up how I personally feel about education in general;
"For the sole true end of education is simple this: to teach men how to learn for themselves, and whatever instruction fails to do this is effort spent in vain" - Dorothy Sayers
My kids study Latin via Skype with their Nana who lives in England every Monday morning. Jam was very quick to tell me that 'Victus' means 'Way of Life'. I love this because our homeschooling journey is just that, our way of life.
The
Victus Study Skills
program's aim is to equip the student for success in academics and in life. Funny, because that is my aim too. I do not teach my children just to pass exams (although that is a benefit) I am teaching them to be good, moral, educated people and also life long learners.
The four concepts focused on in the system are these;
1.
Zeal without knowledge is not good, but zeal with knowledge bears fruit.
One day Jam wanted to repair his bike, he got all excited and headed out to the garage. He played around with his bike for a while and came in a little frustrated. Later my husband spoke to him and gave him some guidance and pointers. The next day he went out again into the garage and was able to complete his task of fixing his breaks. He was very proud of himself. He realized that it is better to spend a few minutes to prepare and educate yourself than just jump in. We have also talked about this concept in relation to schoolwork. If you try to do a test or assignment without reading the material it doesn't matter how hard you try you can not remember the answers required. Why...because you can not remember what you have not learned. Sounds simple I know but how many times do we think we can do something without adequate preparation.
2.
Results come from the process
.
This is another awesome concept, who remembers the quote like "why expect different results when we keep doing the same thing" or something like that... If we want a different outcome we have to try new ways of doing it. One of the examples in the student book is about a swimmer and a coach. This really struck a cord with Jam as we joined a swim team last August. Jam and Boo have changed their swimming technique dramatically over the last 9 months honestly they look like different creatures in the water. They look like real swimmers. This result is because of the changes they have made by following the instructions of their awesome coaches. Jam linked this concept with his own life. It has been great watching the light bulbs click.
3.
Any system with all of its components must have an aim, or purpose.
I have noticed watching Jam work through this program that when he has a goal that he wants to reach he is a lot more successful with a task. Right now Jam is working to be a Life scout. I love that this gives him a focus. However although he is working towards Life his goal is to be an Eagle Scout by the time he is 16. I don't know if this is possible (I am not the best Scout Mom) but I will encourage his goal.
4.
An effective system of study has the greatest likelihood of aiding in success.
When all of the four components are
used together we can be successful.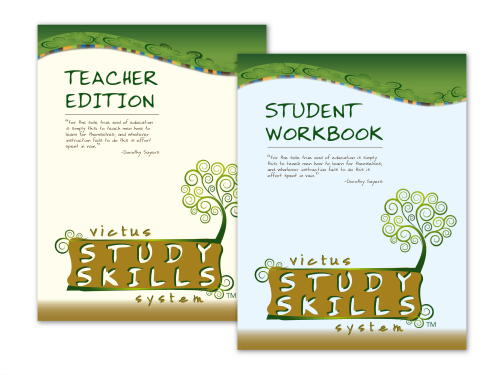 The program consists of a
student book
$20.00 and a
teacher edition book
$40.00.
How we used it:
This course is suggested for 5th - 12th graders (parental assistance may be required with the younger grades). Jam is quite near the beginning of that age range so we decided to start working through the sections together. Although we started working together Jam soon found the work and concepts quite easy and decided that he wanted to continue working on his own. I thought this was an excellent idea because the whole course is about figuring out oneself and your own goals and motivation.
Victus Study Skills System is broken down into three cornerstones and then broken down into further exercises for each student to work through. The study guide says that the basic course can be broken down into five one hour sessions. We however did not follow this plan. Jam broke up the exercises into smaller chunks and took about two weeks to work through the workbook.
1. Where I am now - This unit is broken down into 5 exercises.
2. Where do you want to be - This is broken down into 8 exercises.
3. How do I get there - This is broken down into 21 exercises.
Bonus Appendix - containing extra resources to be used throughout the course.
Jam worked through the lessons. We realized that we have implemented a lot of the concepts taught in this book without even knowing it. We set goals, we identify what we have to do to reach them. As Jam realized this he became more confident. He has implemented the note-taking technique. We use a Charlotte Mason based education and has started to use this while he is reading so he can more fully remember the information he wants to include in his written narrations.
Jam found some of the lessons a little simplest but he liked the concepts behind it.
We found this a very easy to use program. Jam said he enjoyed it and will continue to implement some of the things he learned.
So just to recap the
Victus Study Skills System Teacher Edition $ 40.00 Student Addition $20.00
and is suitable for grades 5-12.
Check out what other people thought.

Connect with
Victus Study Skills
Facebook
&
Twitter

©2011-2014 Chickensbunniesandhomeschool. All rights reserved. All text, photographs, artwork, and other content may not be reproduced or transmitted in any form without the written consent of the author Chickensbunniesandhomeschool.blogspot.com