This week has been a little better that last week. Even though I have a big commitment Saturday morning so I have been dreading the weekend coming. Which is probably why I have enjoyed this week so much.
So lets go with this Random Five!
1. Little J learned how to ride his bike last weekend. Its so exciting we have been trying the 'glide' technique and suddenly it clicked. Sad thing was I was out, so Dad got to experience this 'first' all by himself. However I'm pretty good with sharing as being a SAHM and a WFHM I get to see most of the firsts!
and yes you may think all of the padding is OTT but please don't judge until you see him try to stop! I said he had learned to ride, apparently the stopping will come later :)
2. Little J loves his bread and honey. However, it has to be made the same way as Grandpa, honey first and then butter. Apparently it's better that way.
3. My parents are awesome. They are such an inspiration to me. Look how cute they are. My Dad is really as handy as he looks. He has taught my husband nearly all he knows, and since we only ever call a workman out to work on air conditioning (illegal to work on it unless you are qualified) it's pretty awesome.
This is the two of them outside the Motel that they currently own. Two of the hardest working people I know.
4. I signed Jam and Boo up for summer swim-team this week. Boo is a little apprehensive about swimming in meets but I told her it will be OK.
5. My Nephew Graduates this weekend, I have a presentation Saturday, and we are on countdown for our interviews Tuesday. This feels like a busy weekend and coming week...I could do with a nap!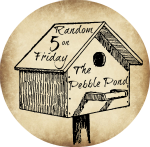 ©2011-2014 Chickensbunniesandhomeschool. All rights reserved. All text, photographs, artwork, and other content may not be reproduced or transmitted in any form without the written consent of the author Chickensbunniesandhomeschool.blogspot.com