Random Five Friday
(may contain affiliate links)
1. I actually got in the pool today. The water was up to 79 degrees so I thought I would try. It actually wasn't that bad. However I didn't stay in as long as the kids, they are just crazy!
2. Little J has finally found our blocks again since we moved. It's fun watching him build again. He likes doing it while I read.
3. My kids last swim practice inside was yesterday. I guess it's a good job they don't mind swimming outside because that's where swim practice moves to on Tuesday. Burrrr to cold for me.
4. I will have sheet-rock up in my new office tomorrow.
5. I am an affiliate for
Spark Naturals
Essential Oils. I love them. Yesterday I made a blend for my husband because he had been working hard building my new room and hurt his shoulder. I blended Eucalyptus, Basil, and Black Pepper with some Fractionated Coconut Oil in a roller bottle. He woke up this morning feeling awesome. They are running weekly specials at the moment and the current one is an awesome deal. They call it their Essential Oil Blend. Peppermint, Lavender, Lemon and Melaleuca (5ml) of each for just $17.99 plus free shipping. If you use my affiliate code you get an extra 10% off. PLUS everything in your cart ships free. Check out the four pack
here!
Check out other Random Fives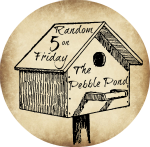 ©2011-2014 Chickensbunniesandhomeschool. All rights reserved. All text, photographs, artwork, and other content may not be reproduced or transmitted in any form without the written consent of the author Chickensbunniesandhomeschool.blogspot.com