Random Five Friday
1. Mother's Day this weekend - love it!
2. This week has been a little crazy. Monday everyone was in a bad mood, I think it is because the pool was full of water and it was hot outside. The kids were chomping at the bit to get out there. Despite the fact that the water was freezing. They managed to talk me into letting them get in. Little J wore a wetsuit with floats that worked well. The older two...well they just froze.
3.We are taking the kids for 1/2 price Sonic Shakes tonight. Little J can't wait - he is driving me crazy - "Is it time to go yet!"
4. Little J's favorite is a vanilla milkshake. Boo and Jam want peanut butter chocolate.
5. I made some more salve for my essential oils today. Solid Coconut oil, Olive Oil, and Bees Wax.
Check out more
Random Five at The Pebble Pond.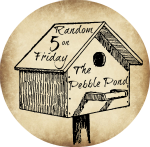 ©2011-2014 Chickensbunniesandhomeschool. All rights reserved. All text, photographs, artwork, and other content may not be reproduced or transmitted in any form without the written consent of the author Chickensbunniesandhomeschool.blogspot.com